New Year Celebration 2020 Fireworks in Bahria Town Lahore, Karachi & Islamabad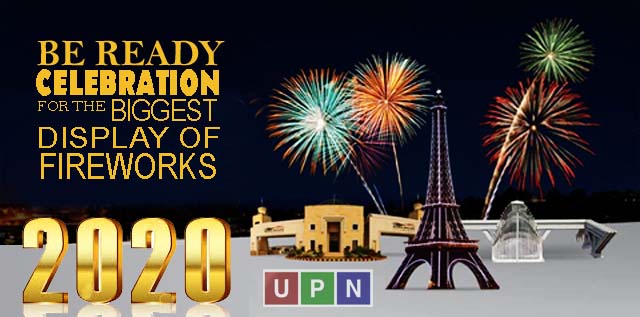 Bahria Town has set a tradition to celebrate the start of the New Year by organizing remarkable and simultaneous displays of fireworks in Karachi, Lahore, and Islamabad. Now keeping its tradition, Bahria Town's once again set to provide you with an amazing opportunity to celebrate New Year's Eve 2020 in the style. This year, the administration of Bahria Town is preparing for the most-awaited, grand celebration ceremonies of New Year 2020.
So get ready Pakistanis to enjoy the mind-blowing celebrations of New Year 2020. These celebrations will be filled with lots of fun, entertainment, maza, Masti, and music.
Bahria Town Hold Grand Celebrations to Welcome New Year 2020
Bahria Town is all set to welcome New Year 2020 with exceptional fireworks in Bahria Town Lahore, Bahria Town Karachi, and Bahria Enclave Islamabad.
These grand celebrations will not only include amazing firework, but you will definitely find more and amazing with it. Yes, these celebrations will also include live music concerts, unlimited fun, amazing games, food and much more.
Firework Arrangement of Bahria Town for New Year 2020
Bahria Town has arranged the mesmerizing firework and laser light show in the three major cities of Pakistan. The epic show for the celebrations of New Year 2020 will begin just as the clock takes us to 2020. This New Year amazing firework, laser light show, and other grand celebrations are scheduled at:
Trafalgar Square – Bahria Enclave Islamabad
Eiffel Tower – Bahria Town Lahore
Eiffel Tower – Bahria Town Karachi
A Huge Crowd of People Will Witness Grand Celebrations
Residents of these cities are eagerly waiting to welcome the New Year with a dazzling display of rockets exploding at the stroke of midnight.
Every year, thousands of people gather to witness these grand celebrations organized by Bahria Town Private Limited.
Bahria Town Grand Family Festival and New Year Eve
No doubt, Bahria Town especially, in Karachi, Lahore, and Islamabad are ideal to celebrate New Year Eve with your friends and family. Bahria Town is the ideal choice for the mesmerizing hangout and to spend some quality time with your beloved ones.
Bahria Town is organizing a great grand family festival in twin cities for the grand celebrations of the New Year. Thousands of people will enjoy the melodious music as these celebrations will begin with the energetic concerts. Yes, many well-known singers will perform at the events.
When the clock tickles to 12, the mesmerizing fireworks will begin in slow motion and end on a high note. Not only the families on the site of Bahria Enclave but also the people from Margala Hills and Bahria Town Rawalpindi will witness this grand firework show.
New Year 2020 Celebrations & No Entry Fee
Bahria Town's is beautifully organizing the grand festival in Bahria Town Karachi, Lahore, and Islamabad for the New Year Celebrations. But the good news is that these societies will not charge you any entry fees. Yes for the full participation these New Year Celebration & Festivals are open for the residents of Bahria as well as to the general public.
Check out our site for more detail. Latest News
So, be ready to witness the hottest, mesmerizing, and joyful New Year 2020 Celebrations with Bahria Town.

For more details, latest news, etc. please visit our YouTube Channel: