Grand City Kharian to Hold a Grand Food Festival with Lots of Fun, Food, Music & Fire Show
by UPN
December 21, 2019
0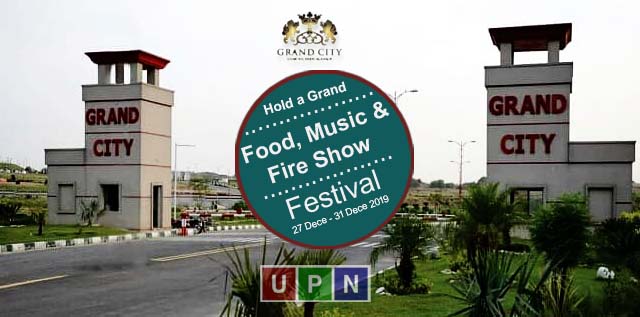 The preparation for New Year Celebration is now at peak and everyone is planning to celebrate it with full fervor. Different real estate developers and private housing societies are organizing celebrations, festivals, and events for the residents of their cities. But Grand City Kharian brings you a complete fun-filled family festival which will include a musical concert of famous singers in the country. Apart from these, traditional food stalls will also be a part of this festival.
Grand Food Festival in Grand City Kharian
Grand City Kharian has brought you a wonderful opportunity to celebrate these winter holidays in style. It will be a grand event for the people of Kharian and nearby towns. If you are really planning to hang out these winters with your family, this food festival is the right place for you. To cater to different age groups, Grand City has planned a lot more for the memorable experience. A family festival has been scheduled that will include a number of attractions to pull a huge crowd. This event will be filled with lots of mastic, maza, and music.
Event Venue, Date and Timings
This Grand event will begin on 27TH December 2019 to 31st December 2019. The timing set for the event is 1:00 PM Onwards. Grand Food Festival '19 will take place at Grand City Kharian G.T Road Sarai Alamgir district Gujrat. This event will continue for 5 days.
Eat to the Beat at Grand Food Festival
Grand Food Festival promises to offer a variety of traditional Desi, Lahori Food. Here foodies will witness chefs working their magic through the cooking exhibitions and enjoy a stellar line up of live music with other fun-filled activities.
In addition, the well-known, artists that will perform in the event are Nadeem Abbas and Nooran Lal. Moreover, different artists are also performing to add more fun and music to this event.
Indeed, an amazing firework and Laser Show is also plan to make this event mesmerizing!
Ticket Prices and Availability
By keeping the prices of the entry tickets reasonable, the organizers are trying to attract more and more visitors to this food festival. Moreover, it will be a complete family festival that means the whole show is organized for family only.
Per person ticket prices are Rs. 50/- Only
So, get your ticket now and enjoy the mouth-watering food, lots of music, mastic, as well as, fun on this Grand Festival in Grand City Kharian Sarai Alamgir!
Check out our site for more detail. Latest News

For more information, stay connected to Universal Property Network!