Top Venues to Be A Part of New Year Celebrations in Karachi
by UPN
December 30, 2019
0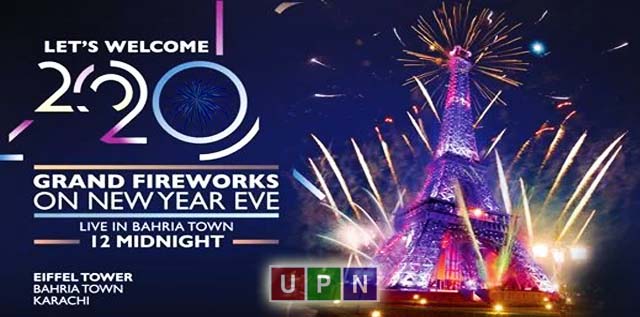 Celebrations on New Year Eve are not an old tradition, but it is rapidly picking pace and has become the popular one. It is especially popular is the young generation such as kids, teens and young adults. So, keeping the tradition of New Year Celebration, all three major cities of Pakistan—Karachi, Lahore, and Islamabad will host various New Year fireworks displays at different public hotspots on the 31st December.
These displays will be full of excitement, mesmerizing and attractive enough to draw in a large crowd.
So, are you also wondering to watch these exciting shows of New Year Celebrations? Well, here we are sharing the details of the best venues to be a part of that fantastic firework.
New Year Celebrations in Karachi
Karachi is the largest, and the busiest city in Pakistan. Covering a large area of land, there is not only one, but three different yet fabulous New Year fireworks display being organized in various parts of the city Here are the details:
Grand Fireworks on New Year's Eve at Bahria Town, Karachi
Grand New Year Eve 2020, Hosted by Port Grand
New Year Night Fireworks at Sea view
Further details of these events are shared below:
New Year Eve – Grand Firework Show in Bahria Town Karachi
Bahria Town Private Limited always celebrates New Year's Eve at its housing developments. The developers are hosting grand New Year Celebrations in Bahria Town Karachi since it was under construction.
This year, be ready to visit Bahria Town to see the magnificent New Year fireworks display that Bahria Management is organizing for the people of Karachi.
Venue: Eiffel Tower Replica, Bahria Town, Karachi
Timings: Tuesday, 31st December 2019, 11 pm onwards
Tickets: Free Entry (Families Only)
New Year Eve – At Sea View Karachi
In the past, the Government of Sindh imposes a ban on New Year's Celebration at Sea view. But since the end of 2017, now they are allowing celebrating New Year Eve at Sea View Karachi. So, definitely this time, a crowd of people will gather near the beach for a fantastic firework display. Moreover, this time, the provincial government is organizing the show themselves to provide the best entertainment to the locals.
However, some precautions/measures are also taken to avoid any hazards. These measures include using Shahrah-e-Faisal and then the Saudi Consulate route to get to Sea view or to take the Club Road route.
There will be a ban on one-wheeling, riding motorcycles without silencers, and aerial firing, with Section 144 in place, which also imposes a ban on carrying an armed weapon
Venue: Sea view, near Do Darya, Karachi
Timings: Tuesday, 31st December 2019, 11 pm onwards
Tickets: Free for All
Grand New Year Eve Celebrations Hosted by Port Grand
Port Grand is ideally located near Kemari and Native Jetty Bridge that is going to host a grand musical night on the last evening of this year. You can be a part of these festivities where Farhan Saeed, Naveed Taj, Nudrat Mughal, Zubair Rehman, and Amjad Warsi, are coming to perform. Moreover, a colorful display of firework is also planned at night.
Venue: Port Grand, Karachi
Timings: Tuesday, 31st December 2019, 5:30 pm onwards
Tickets: PKR 1,500 per person (Entrance & Concert Ticket Only).
Stay Updated with Universal Property Network!