Buy Reasonable Properties in Bahria Town Karachi
by UPN
December 15, 2019
0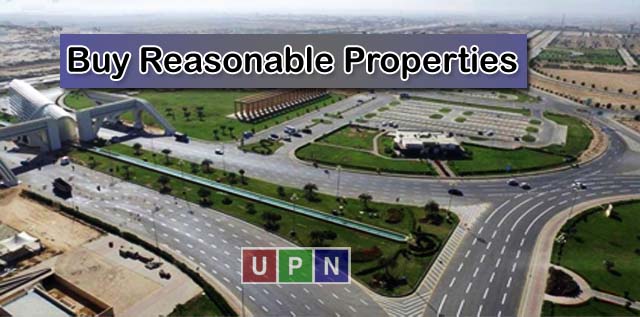 Bahria Town Karachi, the largest housings community in Pakistan. It is full of properties that anyone can buy to live and profitable investment. People, who prefer to live in Karachi, mostly choose Bahria Town the ideal destination to construct their dream houses.
Comprising of many precincts, the society is developing rapidly. Many of the precincts are developed and inhabited, while the remaining development is progressing rapidly.
Reasonable Plots in Bahria Town Karachi
The society is offering the plots of 125 sq. yards, 250 sq. yards, 500 sq. yards, as well as 1000 sq. yards. The prices of all these plots are different, depends on location, development status, and also on the inhabitation ratio.
Here in Bahria Town Karachi, you can easily find different properties available at reasonable rates. But still, there are many clients who desire to buy residential plots at their launching prices. This means they want to buy plots without paying any profit income on that.
So, today, in this latest blog, we are here with some reasonable properties available in Bahria Town Karachi.
This write-up is especially for those, who demand to buy residential plots at the best location but without paying any extra amount on it.
So, definitely we are bringing the great investment opportunities in the different precincts of Bahria Town especially in Precinct 22, Precinct 23, Precinct 30, and Precinct 33.
Affordable Plots of 250 Sq. Yards
The residential plots of 250 sq. yards in Precinct 22, 23, and 30 were launched four years back at the price of 28 lacs. These plots were available on the easy installments and now all the installments are paid. But the most interesting thing is that you can still buy the desirable, fully developed, and possession plot of 250 sq. yards at the average price of 28 lacs.
The only difference is that now you will have to pay full cash payment for it. Means, Bahria Town Karachi is offering these highly attractive plots at their launching prices. Moreover, there are some plots that are also available below then their actual prices.
Affordable Plots of 500 Sq. Yards
Same in the case of 500 sq. yards plots especially that is located in Precinct 33. This is one of the best precincts in Old BTK to buy this category of plots. Here the launching price of 500 sq. yards was around 46 lacs. And now again you can buy these plots at their launching prices without paying any extra amount for it.
All these plots are fully developed, available with possession and located ideally.
Reasons for the Lower Prices of Plots
When the market of Bahria Town was at the peak, the prices of the above-mentioned plots of 250 sq. yards went high around 55 lacs. Now, these plots are available at the cost of 28 lacs only because of some disputed land issues of Bahria Sports City and Bahria Paradise.
It is important to mention here that these precincts have no concerns with the disputed land issues but still, these issues affect the prices of these plots.
So, those looking to buy reasonable properties especially end-users can consider buying these highly-attractive plots in Bahria Town.
At this time, prices are low but soon after the launch of Bahria Town Peshawar, the market conditions of the project will get improved. So, there will be an increase in prices.
In other words, this is the right time to buy the best plots of 250 sq. yards and 500 sq. yards at their launching prices.
For further details, contact Universal Property Network.