Opening Ceremony of Bahria Town Newly Build Interchange M9
by UPN
February 12, 2020
0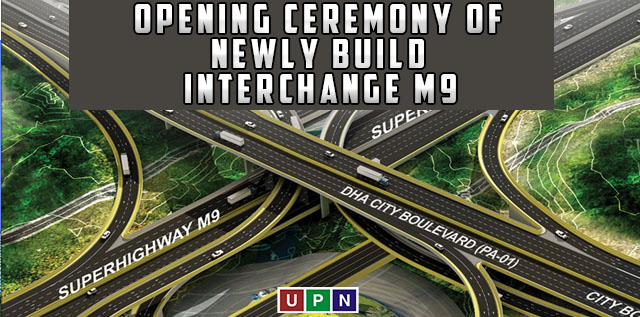 Asia's top developers, Bahria Town Private Limited has proudly constructed an interchange on the M-9 Motorway. The construction work of this interchange is brilliantly completed within a record time period. Now, the society is going to host a grand opening ceremony of Bahria Town interchange on 14th February 2020.
Bahria Town has paid all the expenses of the construction of this mega project, which is estimated at millions of rupees. Previously, Bahria Town Private Limited has also developed a flyover and underpass in Clifton entirely at its own cost.
This newly builds M-9 Interchange will allow the general public to easily access the amenities, comforts, entertainment recreation facilities and the modern style of development that Bahria Town Karachi is brilliantly offering.
Opening Ceremony of Bahria Town Karachi M-9 Interchange – All Details
It will be a grand opening ceremony of Bahria Town newly builds M-9 Interchange held on Friday 14th February 2020 at 3:00 PM. This ceremony will take place at on Bahria Town Gate House.
Here are the complete details of this opening ceremony of Bahria Town Interchange:
Time
Details
3:00 PM
Arrival of Guests
3:20 PM
Arrival of Chief Guests

(Escorted by BTK Security Cavalcade)

GM Security is to Arrange

3:25 PM
Project Brief
3:30 PM
Unveiling of Plaque
3:40 PM
Dua
3:50 PM
VIP Entourage is to proceed for round BT1 M9
Departure at Own Convenience
Further details are:
GM Security is to Undertake Parking, Security Arrangements and also to Plan Entourage/ Cavalcade
GM (Khalid) is to ensure clearance of M9, GateHouse, etc.
SGM – M&S is to details query for Dua, Stand for Plaque, Podium, Boards, and Decoration of BTI M-9.
Procurement Department is to arrange Plaque ( as per sample) Sound System and Carpets etc.
Madam Nida is to provide Medical Coverage
Raheel (0344- 2299367) is to cover photography
Dress Code for the Ceremony is Formal
Tea/Refreshment for 100 x Media Persons at Rendezyous by Manager Club
The band is to display Ceremonial, Mr. Enayat is to arrange.
Bahria Karachi Motorway Interchange Construction Details
This newly builds motorway interchange for Bahria Town Karachi is a multiple structure project. It includes 2 bridges, 3 underpasses, and a causeway. Moreover, elaborate entry and exit plazas are also constructed to facilitate the commuters moving to and from the Bahria Town Karachi.  Furthermore, a well-organized network of slip roads is also built as per the part of this interchange.
In short, this Bahria Town M9 Interchange will connect Karachi-Hyderabad Motorway with 400 ft. wide Main Jinnah Avenue of Bahria Town Karachi. In addition to all, this project has also comprised the development of pumping stations, drainage systems, and standardized electrification for lighting up the underpasses and the bridges.
 Agreement of Development of M9 Interchange
Bahria Town Karachi has signed an agreement with FWO (Frontier Works Organization) and its subsidiary Superhighway Construction Operation and Rehabilitation Engineering (Private) Limited (SCORE) for the construction of a state-of-the-art dedicated interchange on M-9 motorway. All these companies have brilliantly work for the completion of M9 Interchange and now the opening ceremony of Bahria Town interchange is will be held in a couple of days.
Stay connected with Universal Property Network.