Precinct 22 & Precinct 23 Bahria Town Karachi – A Complete Overview
by UPN
February 18, 2019
0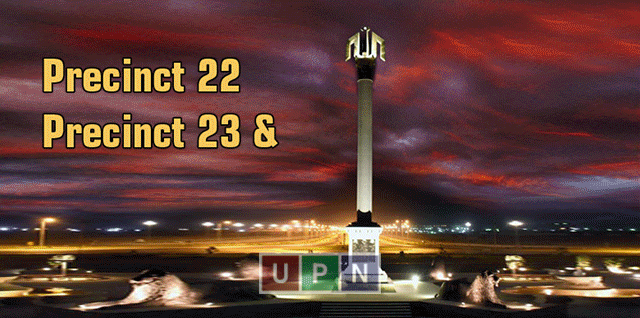 Bahria Town Karachi is a master plan that is a complete city within a city. It is one of the largest housing projects in the country. It holds significant value for the amazing features and facilities available in it. Bahria Administration has worked brilliantly that each and every precinct of this project holds some impressive features. But these days, local and overseas clients are showing their keen interest in Precinct 22 & Precinct 23. Both these precincts are located at the prime locations and the plots of two different categories are available in it at the most amazing prices. Further details are provided below.
Location Details
Precinct 22 & Precinct 23 are located at the ideal location of Bahria Town Karachi. Precinct 22 is located top height and the prime location of this precinct makes it the hot-favorite choice for investment. It is situated close to Bahria Golf City and also nearest to Medical University.
Development Updates
Precinct 22 is completed developed. All the work on electricity, sewerage, gas, green beds, and road infrastructure are completed so far. Keeping the current development status of Precinct 22, it is expected that Bahria Town will soon announce the possession. However, the development of Precinct 23 is about 30 % to 40 % developed and the remaining development work is moving at a satisfactory pace.
Latest Prices of Plots
Precinct 22 is consists 250 sq. yards plots in it. These are available at the most reasonable rates. These high on demand plots were launched around 4 years ago at the price of 28.5 lacs. The updated prices of 250 sq. yards plots including own and all the other charges will be from 30 lacs to 35 lacs. Both general and category plots are available in Precinct 22.
However, Precinct 23 offers the residential plots of 125sq. yards plots in it. Bahria Town has launched them on the easy installment plan of 4 years. The launching price of the plots was 17.25 lacs. Recently, the management of Bahria Town has increased the transfer fees of the plots. These plots will be transfer to you after the payment of 26 Thousand.  The updates prices of these plots are 22 lacs to 25 lacs.
Investment Potential
Investment in Precinct 22 & Precinct 23 is highly recommended to both investors & end-users. The availability of two different categories of plots in these two precincts is definitely providing you once in a lifetime chance to earn huge profit by investing at the right time.
After the development of Bahria Golf City and Bahria Paradise, the prices of the property in these both precincts will definitely boost up. So it's the right time to earn maximum profit with minimum investment.
For best consultancy services contact Universal Property Network