Precinct 23A Villas Shifted to Sports City Villas and In Bahria Heights
by UPN
October 2, 2020
0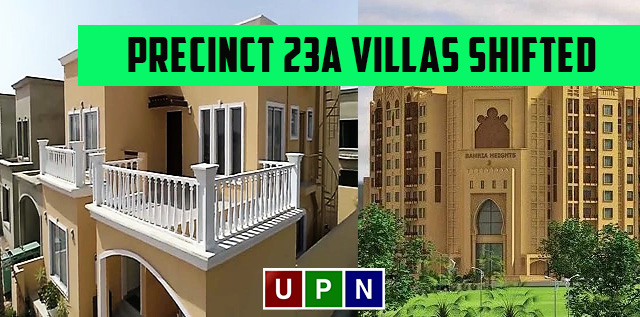 Bahria Town Karachi is designed and developed with the most beautiful and luxurious villas for sale. These villas are located in different precincts where many are ready and populated while some are developing. Similarly, Precinct 23A villas are one of the villas project launched in 2015 on installments. Precinct 23A villas were offered in 125 sq yards and 200 sq yards sizes. The launching prices of the villas were 42 lacs and 49 lacs respectively. Unfortunately, in spite of the completion of installment plans, most of the buyers have not been allotted with the villa numbers.
So, to facilitate those members of Precinct 23A Villas, Bahria Town Karachi has come forward with one of the best offers ever. The affectees of Precinct 23A Villas can now shift their villas files to Bahria Heights and Sports City Villas.
How to Shift Precinct 23A Villas Files Into Bahria Heights and Sports City Villas?
Bahria Town is now providing an opportunity to all the file holders of Precinct 23A Villas to surrender their files. And become an owner of on-ground Bahria Heights and Sports City Villas. This is definitely a golden opportunity that should never be missed.
Members with all the clear dues of Precinct 23A Villas can shift their files in Bahria Heights (from tower A to Tower L). Apartments will be allotted after balloting.
Moreover, those interested to shift their Precinct 23A Villas into Sports City Villas can easily avail of this opportunity by paying a demand draft of 1 crore to Bahria Town Karachi.
The number of clients has contacted Bahria Town Karachi to shift their properties in the recently provided options. So, all the files will be entertained on first come first served bases.
Why Should You Shift Your Files into Sports City Villas and Bahria Heights?
Shifting the files of Precinct 23A Villas into two of the best-developed projects is definitely a great opportunity provided by Bahria Town Karachi.
Bahria Heights is an ideally located project with the best 2-bed apartments for sale. Comprising of many towers, these apartments are beautifully surrounded by so many attractions and facilities. Most of these towers are 100% ready and possession will be announced in the next six months.
On the other hand, 350 sq yards Sports City Villas is an already populated community. It's a place where you will find all the luxuries and comforts of peaceful living. The demand for these villas is very high. So, by just paying an amount of 1 crore, you can become the owner of a ready to move 350 sq yards Sports City villa.
If you have any queries, please contact Universal Property Network!
Check out our site for more detail. Latest News