Precinct 35 Bahria Town Karachi – A Place of Luxury Villas for Luxurious Living Style
by UPN
December 31, 2018
0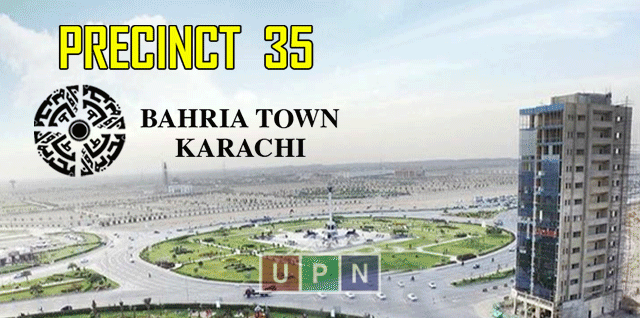 Bahria Sports City Karachi is catching the attention of investors for many reasons. But when we start looking at its Precinct 35 Bahria Town Karachi, it gives the 'WOW" feelings for the first sight. This Precinct is all comprised of 350 sq. yards luxury villas in it. The development of Precinct 35 is moving at the fastest speed. Even the number of families is already living in these luxury villas of 350 sq. yards in Precinct 35.
These villas are amazingly designed with modern architecture where you can enjoy all the luxuries of life. These 4-Bed luxury villas are providing you with an outstanding chance to have a residence in Bahria Town Karachi by investing in this build-in property. These luxury villas of 350 sq. yards are surrounded by many attractions and the most prominent one is the Rafi Cricket Stadium. The ideal location, where all the latest facilities are provided to its residents makes these 350 sq. yards villas the right choice to invest. Let's have some further details about the 350 sq. yards villas of Precinct 35.
Precinct 35 Bahria Town Karachi – Outstanding Attractions
This precinct is located joint and opposite to Rafi Cricket Stadium that is the biggest attraction in its surrounding. The second most beautiful attraction in the surrounding is the Eiffel Tower that is located in Precinct 37. The inauguration ceremony of this adorable Landmark is planned for 31 Dec.
Location Overview & Approach
Bahria Sports City is located at the ideal location of Bahria Town Karachi. It is beautifully designed with many precincts. Rafi Cricket Stadium is planned to be designed in Bahria Sports City. This subproject of Bahria Town is positioned at the drive of 15 to 18 km from the Main Entrance. Precinct 35 holds a significant position in Bahria Town for its nearest location to Rafi Cricket Stadium.
Updated Prices & Payment Plans
These villas were launched 3 years ago. Bahria Town has announced two bookings for these villas and now there is an own price on both of these bookings. The first booking for these 350 sq. yards villas were launched at 1.45 crores. This installment plan is going to complete in the coming month of February.
The second booking of these 350 sq. yards villas were launched at 2 crores. It's a payment plan of two years in which only 1 to 2 installments are paid. The down payment for the villas is 50 lacs.
For more updates and offers, keep visiting Universal Property Network.