Precinct 52 Bahria Town Karachi – A Right Choice for Long-Term Investment with Easy Installment Plan
by UPN
December 31, 2018
0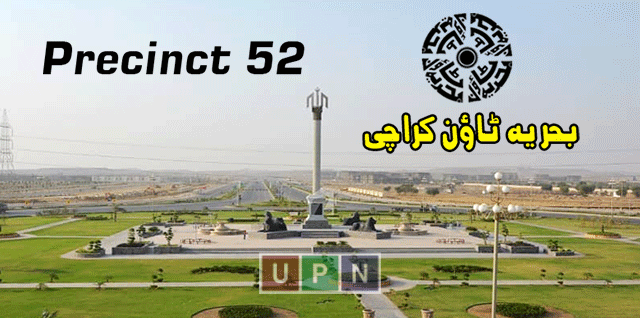 Precinct 52 Bahria Town Karachi is one of the most attractive precincts of Bahria Town Karachi for the outstanding features that are designed to make a part of it. The construction of Central Park and Taj Mahal Monument are the two major attractions that make this precinct more valuable.
Precinct 52 is located at the amazing location of Bahria Town Karachi where the second main entrance of the project is also planned to be designed in future. The direct access to Main Super Highway provides this precinct the most attractive features. The plots cuttings of 250 sq. yards are available in Precinct 52. The prices of the plots are reasonable and are available at the easy installment plan. If we compare the prices of the same category plots in other precincts 46, 47, 48 and 51, these plots of 250 sq. yards in Precinct 52 are available at the economic terms.
Precinct 52 Bahria Town Karachi – Location Details & Amazing Features
Precinct 52 is ideally located in Bahria Paradise. In the top attractions, Central Park and Taj Mahal Monument raise its value. This precinct will soon become one of the most important ones as the second Main Entrance of Bahria Town Karachi is planned to be designed on a road alongside this precinct.
Precinct 52 Bahria Town Karachi – Development Status
The development of Precinct 52 Bahria Town is started. Machinery has already arrived on the ground and working at a satisfactory pace. The developments of its nearest precincts are already completed and it is also expected that this precinct will soon become ready to build area just before the completion of installments.
Latest Prices & Comparison with the Nearest Precincts
The plots cuttings of 250 sq. yards are designed in Precinct 52. These plots were launched at the price of 59 lacs on the easy installment plan of 4 years. The booking price of the plots is 6.36 lacs and the installment for the plots is 3.25 lacs. Some of the installments are already paid while most of it is remaining. The prices of the plots are quite reasonable as compared to the prices of plots in its nearest precincts. The 250 sq. yards plots in Precincts 47, 49 and 51 are available with own price on them.
Investment Perspective
Every investor looks for a best opportunity to invest at the place that will return a huge profit. Precinct 52 is the right choice as the prices of the plots are going to increase just like the completion of development. The mind-blowing attractions are also adding more value to this precinct. To avail this great chance and invest in Precinct 52, as buying is highly recommended by Universal Property Network.
For further details and updates, stay connected to UPN.