Precinct 54 Central Park in Bahria Paradise Excellent Investment Opportunity – Bahria Paradise Latest Update
by UPN
July 25, 2018
0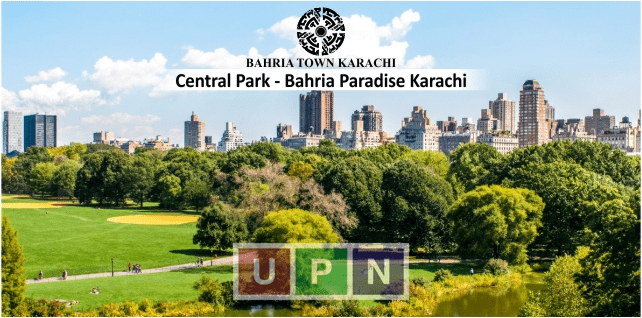 Bahria Town is all set to create a paradise on earth and that too in the biggest city of Pakistan – Karachi. The entire project is a huge success, but as reports are surfacing from time to time, Central Park is going to be a huge attraction. Located in the heart of Bahria Paradise Karachi, taken inspiration from the original Central Park in New York this park will be a great spot to spend family time on the weekends. Covering 64 Acres of land, the park holds great importance. It will facilitate the visitors and especially residents of Precinct 54 making it one of the most visited areas.
Bahria Paradise Karachi – Ideally Located and Accessible to All
Central Park, like the rest of the land marks included in the mega project, is an open to all attraction. People from all over Pakistan can visit it any time and this is the reason roads leading to it have been carefully planned to avoid rush or traffic jams especially on the holidays when people usually go out to parks. 3 main roads are connected to it for free flow of traffic making it a must see for everyone. The main roads connecting it are:
Paradise Avenue (200 Ft. Wide)
Quaid Avenue (150 Ft. wide)
Sir Syed Avenue (120 Ft. wide)
18.5 Acres of land has been allocated to construct a Five Star hotel in a corner of the park. The surrounding lands are reserved for commercial plots providing a huge opportunity to investors. Besides commercial activities going on around the park, 500 Sq. Yard housing cutting is also present for the luxury-loving people.
Central Park Attractions
The park will be a complete replica of the New York-based Central Park. It will consist of:
Harlem Meer Lake
Flower Garden
Untermyer Fountain
The Great Hill
Recreational Center
Tennis Court
Onassis Reservoir
Museum
Open Air Theater
Skating Track
Sheep Meadow Park
Central Park Zoo
Cycling Track
Turtle Pound
Rat Rock
Amusement Park
Investment & Living Opportunities
Universal Property Network is one of the largest & trustworthy organization actively working in the real estate sector across Pakistan. Having successfully served the nation for over 15 years now, we are a leading company for profitable investment and consultancy in the real estate. You can visit our blog to stay updated with all the latest news and happenings in the industry. Our experts can guide you very well so that you start your business as an investor in Bahria Paradise. We also deal in sale & purchase of property so if you are a plot or file owner, contact us with confidence and we can get you the best deal. We also provide the latest insights about property thru our blog and social media channels.