Eiffel tower in Bahria Town Karachi and Impact on Precinct 37- Bahria Town Karachi Precinct 37 Update
by UPN
July 24, 2018
0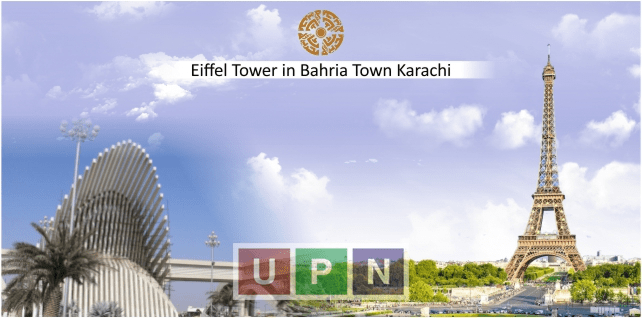 Bahria Town, Pakistan's most successful housing society that promised everything that other societies lacked made it famous in a very short time. Bahria Town is very well known for its sightseeing attractions that are scattered all over the society. People from other parts of the city come flocking to see these marvels that could be seen in pictures only or if one spent millions of rupees to travel abroad. Lahore was the first city to get lucky by hosting the marvels brought in by the housing society. Once the news was out, people from all over the country came to see it and appreciated Malik Riaz's efforts to change the way a housing society be constructed. This and many more other amenities' publicity paved way for Bahria's success in all other cities especially Karachi.
Eiffel tower in Bahria Town Karachi
Eiffel Tower has always been an attraction for mankind. Paris, although having many other qualities, is popular amongst people mainly because of its Eiffel Tower. Having a replica of the same tower in Pakistan created waves of excitement among the masses and Bahria Town became more popular as people came to know about it. Now it seems the authorities have realized it is a necessary item for every Bahria Town Society because Karachi is also getting the tower. Precinct 37 has been chosen as the host to this marvel making it the lucky precinct. Files & plot owners in this precinct can surely consider themselves the lucky ones because it is one of the best areas to invest and there is still chance for more investment.
25 Acres of Land for Eiffel Tower
Having 25 Acres of land reserved for the landmark in Karachi, there is ample space for large gatherings around it without disturbing the residents of Precinct 37. Being close to the sports city as well, it seems this precinct is getting all the love from Malik Riaz's architects. This is good news for the investors interested in this particular precinct. The rates are ever increasing rapidly making it an ideal spot for investment. The high yields against a single investment will surely get any investor addicted to returning here in future. According to unconfirmed news, development of the tower will be initiated in a short time which when confirmed, will raise the prices of the precinct by a huge margin.
Our UPN Services
Universal Property Network is one of the largest in the real estate sector of Pakistan. Having successfully served the nation for over 15 years now, we are a leading company for profitable investment and consultancy in the real estate. You can visit our blog to stay updated with all the latest news and happenings in the industry. Our experts can guide you very well so that you start your business as an investor. We also deal in sale & purchase of property so if you are a plot or file owner, contact us with confidence because we can get you the best deal and also provide the latest insights about a property.