Precincts with Possession in Bahria Town Karachi
by UPN
January 13, 2021
0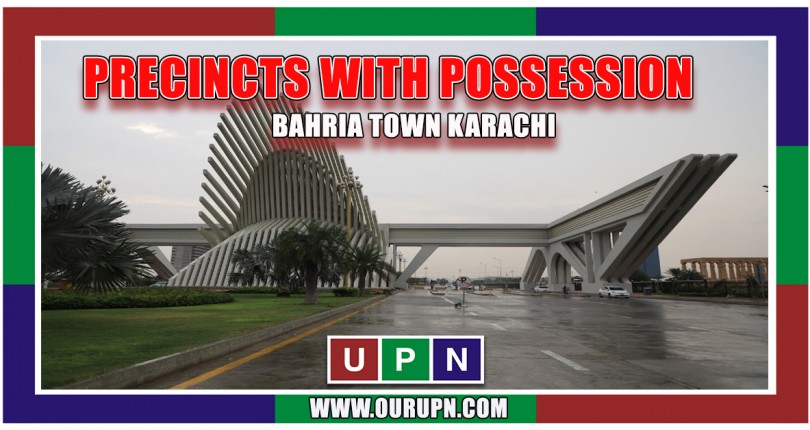 From the last many days, we are receiving queries that are the possession of plots in the several precincts of Bahria Town Karachi is available? People ask to know the possession availability in Precinct 32, Precinct 30, Precinct 22, Precinct 21 and many of the precincts. So, before sharing the details of these precincts, we would like to mention here that all the properties on which Bahria Town is demanding the possession charges are 100% ready for possession.
The precincts of Old BTK are from Precinct 1 to Precinct 33 where the last precinct also develops perfectly. A shopping gallery is completed there while the construction of houses begins.
Possession Update in Precinct 22 to Precinct 25
These precincts are the part of Old BTK where the plots of different sizes are available for sale. The development work of these precincts is complete. Possession of the plots is available. Even several houses are under construction.
Possession Update in Precinct 3, Precinct 7 and Precinct 17
Precinct 3 features 2000 sq yards while Precinct 7 and Precinct 17 are developed with 1000 sq yards residential plots. All the plots in these precincts are on-ground, and Bahria Town has allowed houses' construction in them. Possession of plots is available, and you can confidently visit Bahria Head office for further discussion on house construction.
Possession Update in Bahria Golf City Karachi
Today, UPN invites you to come and visit the site of Bahria Golf City with us. The possession of plots in Bahria Golf City Karachi is available. Several houses are under construction there while many have applied for the possession and map approvals.
The development work of Bahria Golf City is more than 90% completed. Only some of the areas are developing where the infrastructural development is underway.
Bahria Sports City starts from Precinct 34, which is also an on-ground precinct. It features the residential plots of 250 sq yards. You can easily start the construction of a house with 5-bedroom accommodation.
Possession Update in Bahria Farmhouses Karachi
It is a gated community located within the premises of Bahria Town Karachi. This area is beautifully developed with several attractions. Bahria Farmhouses are offering bigger size of plots for the construction of your dreamed farmhouse in Bahria Town. Possession of the plots is available. Moreover, around 5 to 6 farmhouses are completely ready.
Possession Update in Bahria Paradise Karachi
This project offers plots with on-going installments. However, the areas of Bahria Paradise that are ready means having possession. Yes, all the on-ground plots of Bahria Paradise are available with possession, and you can easily apply for the possession of your plot to start the construction.
To know more about the possession process, possession charges of plots and further assistance, contact Universal Property Network  For More Information click here or visit our youtube channel further assistance