Profitable Properties for Sale in Bahria Town Karachi
by UPN
August 19, 2020
0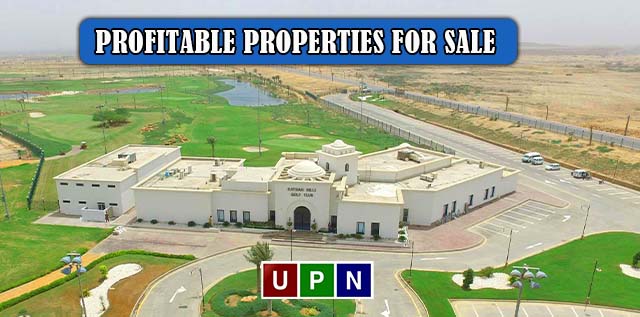 Are you looking to buy the most profitable properties in Bahria Town Karachi?  Want to invest in the ideal properties that will provide you with the desired profit in short to medium time investment? Then keep reading this latest write-up where we are going to share all the details of the best-selling and profitable investment opportunities available in Bahria Town Karachi. You will be updated with the latest details of residential plots of 125 sq yards, 250 sq yards, and 250 sq yards. Let's explore these details together!
Profitable Precincts to Buy 125 Sq Yards Plots
The very best precinct to buy 125 sq yards plots is Precinct 15 and Precinct 14. Both of these precincts lie in the proximity of the heart of Bahria Town Precinct 12. So many attractions have beautifully surrounded these precincts. The development work is near completion, but still, the prices of plots are low in comparison to other precincts.
The minimum price of plots in these precincts is 17 lacs to 21 lacs.
Precinct 27 is another good option to buy 125 sq. yards plots. It is situated adjacent to Precinct 15. Dancing Fountain and many other attractions lie close to it.
The starting price of plots is 16.50 lacs to 22 lacs.
Precinct 26A offers the best 125 sq yards plots. This precinct is catching everyone's attention as soon the head office of Bahria Town will be shifted to this precinct. Located ideally on Main Jinnah Avenue, all the plots are on-ground in this precinct.
The prices of plots range between 18 lacs to 22 lacs.
Profitable Precincts to Buy 250 Sq Yards Plots
Whenever it comes to buy 250 sq yards plots in Bahria Town Karachi, the very first options that come in our mind is to invest in Precinct 6, 8 and 16. These three are the hot-favorite precincts to buy the residential plots of 250 sq yards.
The starting price of these plots is 43 lacs to 57 lacs.
However, still, there are many precincts that are highly recommended to buy this category of plots. These precincts are Precinct 22 and Precinct 30.
Precinct 30 is located beautifully on Main Jinnah Avenue. The construction of houses is also started. It offers a general plot of 250 sq. yards at the minimum price of 28 lacs. However, the same plots in the last eight months were available at the cost of 36 lacs. So, those looking to earn the best returns in the next 8 to 10 months can easily invest in these plots for sale.
Precinct 22 also offers the same size 250 sq yards plots at the best price range. These plots are on-ground, available with possession, and surrounded by so many attractions.
Profitable Precincts to 500 Sq Yards Plots
500 sq yards plots for sale in Precinct 33 are ideal to buy for residence and investment. It lies at the distance of 17KM from the Main Bahria Town Entrance. Rafi Cricket Stadium is located in its front and Bahria Sports City villas at the back. Also, the construction work of a shopping gallery is complete.
The price of 500 sq yards in this precinct will cost you around 33 lacs to 45 lacs.
Precinct 37 also features the same 500 sq yards plots. It's a precinct located at the top height. All the plots are on-ground and possession available.
The minimum price of a plot in Precinct 37 is 55 lacs to 60 lacs.
Also, the most attractive plots of 500 sq yards are available in Bahria Golf City and these plots will cost you in between 60 lacs to 1 crore.
Precinct 27A also offers low-cost plots of 500 sq yards. It is located close to the petrol station. 90% of plots of this precinct are developed and while others are developing.
The starting price of these plots is 55 lacs to 65 lacs.
Investment in all these precincts of 125 sq yards, 250 sq yards, and 500 sq. yards will be profitable. Anyone interested can confidently choose these plots for short term to long-term investment.
For further details, contact Universal Property Network!
Check out our site for more detail. Latest News