Precinct 11B Low Budget Villas Bahria Town Karachi
by UPN
May 28, 2022
0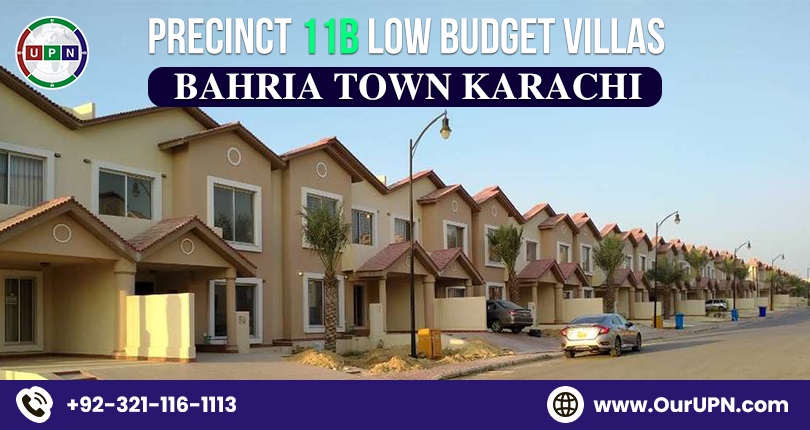 Do you want to invest in the mega housing venture in Pakistan? But desire to buy Precinct 11B low budget villas Bahria Town Karachi as it is the most demanding properties? Then, be ready as some of the best options are still available for you.
Bahria Town Karachi is the home to opportunities. It's a masterpiece, an exceptionally planned project where both buyers and investors invest confidently. It is full of options when it comes to investing. You will find a large number of plot categories and ready-to-move properties. However, the villas for sale in this society have significant importance. These are smartly designed, fully-facilitated houses perfectly meet the residential and investment requirements of people. These Bahria Town villas are planned in several precincts such as:
Precinct 10A, Precinct 11A, Precinct 11B, Precinct 27, Precinct 31, Precinct 35, and Precinct 51. However, the hot-trending property these days, providing people a chance for budget-friendly investment is:
152 Sq Yards Villas of Precinct 11B
Located ideally in the heart of Bahria Town, this precinct is graceful and valuable in terms of location and development. The development work of Precinct 11B has been completed so far. Moreover, it has a prime location within a short distance from the main entrance. The surroundings of this precinct include:
Precinct 10A Villas – An exceptionally developed community where hundreds of families live. All the living facilities are provided to people.
Bahria Golf City – It's another masterpiece, the largest precinct of Bahria Town Karachi. It offers the best plots of 500 sq yards, 1000 sq yards, and 2000 sq yards.
Precinct 11A – This precinct also holds importance for the iconic development of 200 sq yards villas and 152 sq yards villas. These villas are impressively occupied.
This valuable precinct, Precinct 11B offers the incredibly beautiful 152 sq yards villas and 125 sq yards plots. All these are developed properties available at the lowest prices.
Precinct 11B Low Budget Villas Bahria Town Karachi
We call Precinct 11B villas "low budget" as the rates are surprisingly affordable. These villas' prices start from 1.30 crores to 1.80 crores. The huge difference in the price range is because:
Precinct 11B Villas have two different locations, i.e., at top height and lower portion but leveled. Villas at the height will cost you more as compared to other villas. The beautiful villas with complete development and prime location will cost you between 1.65 crores to 1.80 crores.
Some of these villas are still available in grey structures. You can also purchase them at 1.30 crores. The rental value of these Precinct 11B low budget villas Bahria Town Karachi ranges between 45 thousand to 48 thousand. The price for a good location plot of 125 sq yards is 65 lacs. Possession of plots is available.
Comparison with Precinct 2 Villas
These impressive villas of Precinct 2 are also developed in the size of 152 sq yards. Popularly known as Iqbal Villas, these luxury living spaces are available in the price range of 2.10 crores to 2.30 crores. The rates are high, and availability is limited. On the other hand, the same size villa, with magnificent development and top-class amenities, will cost you from 1.60 crores to 1.80 crores.
Conclusion:
Precinct 11B low budget villas Bahria Town Karachi are ideal to meet your residential needs. You can confidently buy your desired villa and start living there as the surroundings are beneficial. Similarly, many investors with a budget lower than 2 crores are searching for some good options for rental gains. These Precinct 11B villas are an exceptional option for them. At the same time, the investment potential of these villas is high. Prices of villas will continue increasing with the increase in the inhabitation ratio.
Please contact Universal Property Network For More Information click here or visit our Youtube channel for further assistance.