Rafi Cricket Stadium Bahria Town Karachi – Development Update 2021
by UPN
January 7, 2021
0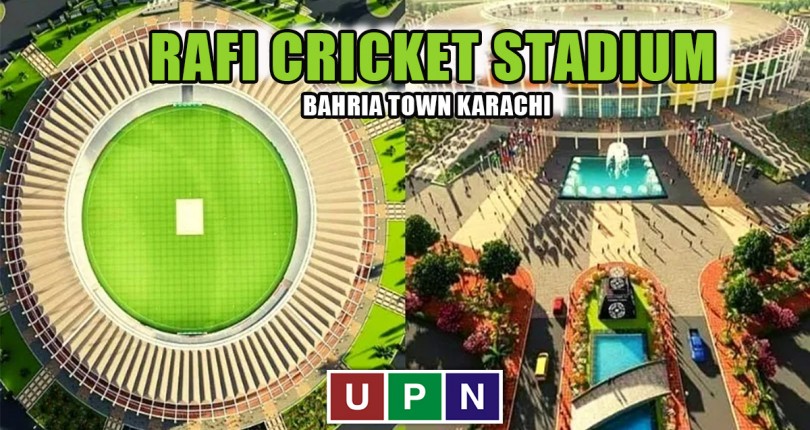 Rafi Cricket Stadium is the largest cricket stadium of Pakistan developing inside Bahria Town Karachi. Although this mega housing venture is comprising many attractions, Rafi Cricket Stadium is one top among them. Developing as per the latest trends with advanced architecture and development, its design is ICC Certified. Having the capacity of 50,000 visitors, Rafi Cricket Stadium will host some of the world's famous cricket matches in the future. We can hope that the PSL 2023 will be played in this largest stadium of Pakistan.
The development work of Rafi Cricket Stadium is quite satisfactory. It is progressing at the fastest speed. The grey structure and the further development of this stadium are visible from a distance. Also, an International Standard Academy and Standard Gymnasium are developing inside the structure of Rafi Cricket Stadium.
Additionally, this stadium will be equipped with digital scoreboards, LED screens, floodlights, a hostel, and training facilities.  A world-class swimming pool is also planned in it.
Current Development Update 2021
The development work on this largest project began in 2018. More than 65% of the development is complete. These days, heavy machinery is working on the upper structure. The hard-working labour and the team of engineers are using the world's best technology for its development. Hopefully, the building structure of Rafi Cricket Stadium will get ready by December 2021.
Attractions of Rafi Cricket Stadium Bahria Town Karachi
First of all, it is developing as the largest cricket stadium in Pakistan. This is the most attractive feature for cricket lovers all across the country. It features spacious parking, and the road infrastructure thoughtfully designs to facilitate its visitors. Also, the surrounded development is impressive.
Sports City Villas of 350 sq yards are located close to it. Several families are living there. These villas are available with possession and without possession. Also, the latest prices of Sports City Villas is 1.50 crores to 2 crores.
The residential plots of different sizes are available in abundance in the surroundings. These plots good for construction will cost you between 40 lacs to 50 lacs. The current prices of plots are affordable. But as soon as Rafi Cricket Stadium's development work progresses, the prices of plots, as well as that of villas, will also increase.
In other words, this is the time to take the decision. Wasting your time or waiting for the increase in development in the proximity will not be beneficial. Currently, you have an opportunity to buy plots and villas at reasonable rates. By investing in Sports City properties for sale, you can earn handsome returns on investment within 2 to 3 years.
So, what are you waiting for?
Contact  Universal Property Network  For More Information click here or visit our youtube channel further assistance