Low Budget Ready Apartments in Bahria Town Karachi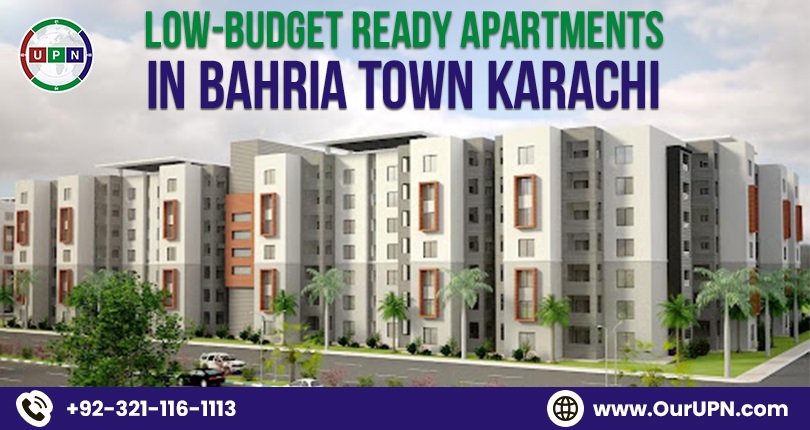 Bahria Town Karachi is a mega residential community; it's a beautiful blend of beauty, quality, innovation and style. Designed brilliantly on modern ideas and terms, this project offers a high standard of living and modern facilities—the well-known Bahria Town Pvt. Ltd has developed it perfectly with all the world-class features. It is located on the outskirts of Karachi, have peaceful and serene surroundings. This society has a wide range of properties. However, the apartments in Bahria Town Karachi holds significant importance.
The reason behind the popularity and demands of apartments is the outstanding location, easy access and available amenities.
Apartments in Bahria Town Karachi
In this latest blog post, we will share the latest details of apartments in Bahria Town that will surely make you ready for investment.
Bahria Apartments
This appealing society features a range of apartments for sale. However, Bahria Apartments are on top among all. The reason is a short distance from the main entrance of Bahria Town. Their impressive development and current inhabitation ratio also make them prominent. The latest prices of 2 beds apartments in Bahria Town are around 1 crore. It is somehow possible to get an apartment at the price between 90 lacs to 1 crore.
Bahria Heights
Comprising several towers, Bahria Heights is a beautiful apartments project in Bahria Town Karachi. It offers 2 beds apartments that measures 1100 sq ft. Located in the proximity of Grand Jamia Mosque, it's a well-developed project, but possession of apartments is only available in Tower A and Tower H. The latest prices of 2 beds apartments in possession able towers are starting from 1.10 crores to 1.20 crores. On the other hand, the ready towers where the possession will be available by the next few months are offering the best apartments. Moreover, the starting prices of 2 beds apartments in them are 90 lacs.
Liberty Clock Tower
This project is beautifully planned and developing rapidly at the prime location of Bahria Town Karachi. Also,, Liberty Clock Tower enjoys proximity to Precinct 4 where a large number of families are living. Moreover, its location is close to Bahria Town Head Office and Midway Commercial A Side and B Side. Additionally, the current development status of this project is also good. It is in the final stages of completion. Hopefully, the possession of properties will be available by the next 2 – 3 months. But still, the prices of apartments in Bahria Town Karachi Liberty Clock Tower are reasonable.
All the above-discussed projects are offering apartments on lump-sum payment only. Below, we share the details for apartments available with a flexible payment plan. 
Liberty Clock Tower 2
Launched 6 – 8 months ago, it's a developing project with 1 bed, 2 beds, and 3 beds apartments. Liberty Clock Tower 2 is a ground + 23 floors high-rise building project. Having a location on Theme Park Commercials at a distance of 1.5 KM from Bahria Town main entrance, this project is offering apartments at affordable rates. Moreover, its surroundings are very much attractive features Imtiaz Super Store, Bahria Hospital, and a petrol pump. All the apartments in Liberty Clock Tower2 are available with a convenient payment plan of 4 years.
AQ Mall and Residency
If you are still in the search of affordable price apartments in Bahria Town Karachi, AQ Mall and Residency can be the best option for you. It's a mix-used venture developing close to Bahria Town Maintenance Office. It's a ground + 30 storey project with luxury apartments available in different sizes. You can easily buy your dream apartment in this mega project by paying in easy installments.
Dominion Shopping Mall and Apartments
Located perfectly at a few hundred meters from Bahria Town main gate, this project offers apartments at the lowest prices. Designed with a shopping mall and apartments on the remaining top floors, it can be ideal to buy apartments with a flexible payment plan. The surroundings of this project are good; moreover, the amenities are unmatchable.
Conclusion:
The apartments in Bahria Town Karachi are undoubtedly heart-winning. All these are beautiful and ideal to buy. The locations of these apartments' projects are different, and prices also vary. However, buying in them is always beneficial as one can confidently buy them for residence and meet their investment needs. So, what are you thinking about? Buy the best apartments for sale in Bahria Town by contacting us!
Please contact Universal Property Network For More Information click here or visit our youtube channel further assistance