Investment in Bahria Town Karachi Commercials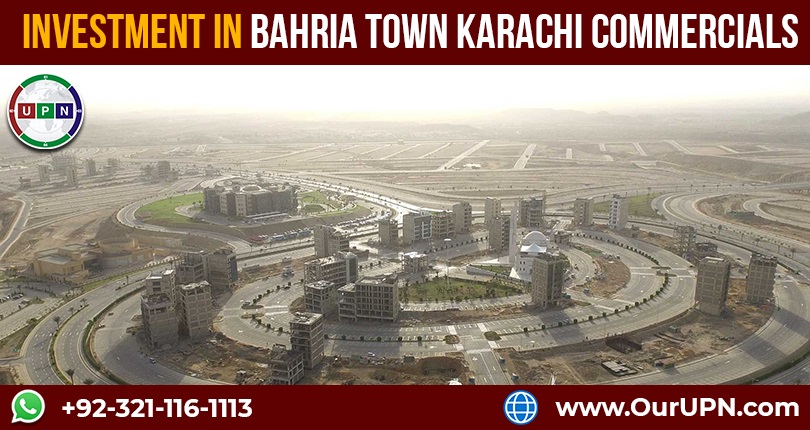 Bahria Town Karachi is a mega residential community featuring luxurious residential spaces. This place is designed perfectly with a few sub-projects and several precincts, making it a complete real estate solution. This society is famous for its peaceful living environment and the amenities provided to its residents. At the same time, Bahria Town Karachi commercials are among the top hot properties in real estate Karachi. The commercial options in this society are wide in range. However, the recently launched deal of Liberty Commercial Bahria Town Karachi has different values and importance.
Yes, Bahria Town Karachi has several commercial developments located at different locations. All these are thoughtfully planned and developed, but some of these are simply heart-winning. This latest blog post will share the best commercial investment options where buying will surely be worth it.
Liberty Commercial Bahria Town Karachi
It is one of the appealing commercial developments in Bahria Town. Featuring Liberty Commercial 1, Liberty Commercial 2, and Liberty Commercial 3, these are impressive commercial projects to invest in. Offering the commercial plots of 266 sq yards, the details of these projects are:
Liberty Commercial 1
This commercial project is located in the surroundings of Precinct 4 and Precinct 6. Easily accessible, the location of Liberty Commercials is near Bahria Town Head Office. Completely developed, these commercial features good development and many high-rise building projects. Furthermore, launched at the price of 6.50 crores. The latest prices of commercial plots are starting from 10 crores to 13 crores.
Liberty Commercial 2
This project, Liberty Commercial Bahria Town Karachi, is appealing for many reasons. However, Phase 2 offers the best commercial plots in the surroundings of Precinct 10 A and Precinct 8 Loop Road. The surroundings of this project have Precinct 10A villas, Bahria Heights, Grand Jamia Mosque and several other attractions. These are 266 sq yards plots available with the construction permission of ground + 8 storeys. Bahria Town allows the construction of multi-purpose ventures on them.  Also, the latest prices of these commercial plots are around 5.30 crores to 6 crores.
Liberty Commercial 3
It is the recent deal of commercial plots launched in Bahria Town Karachi. Liberty Commercial 3 also offers plots of 266 sq yards. These commercials are developing in proximity of Precinct 11. The actual location of this project is Precinct 11A Loop Road. These plots' surroundings have Precinct 11 Villas, Precinct 12 and many attractions of Bahria Town. Moreover, the current prices of commercial plots in Bahria Town Karachi Liberty Commercial 3 are 5 crores to 6.25 crores.
Other Commercial Investment Options
Not only these but there are several other best options of commercial investment in Bahria Town Karachi. The best commercial plots available in:
Ali Block Commercials
Quaid Commercials
Iqbal Commercials
Midway Commercials
Old Commercials
Main Jinnah Avenue Commercial
Some other best options include the commercial plots of 2000 sq yards to 4000 sq yards where the construction of 22 to 30 storeys is allowed. Moreover, these are available for multi-purpose projects.
Current and Upcoming Commercial Hubs in Bahria Town Karachi
Bahria Town is a beautifully developed community. It is ready to place with access to all commercial facilities. Following are the commercial hubs in Bahria Town Karachi:
Midway Commercial A and B Sides
Main Jinnah Avenue
Precinct 10A Commercials
However, this mega society is also planned with several commercial projects such as:
Dancing Fountain Commercial
Rafi Cricket Stadium Commercials
Eiffel Tower Commercials
Al-Abrar Square
Bahria Greens Commercials
Once launched, these upcoming projects will offer incredible business and investment opportunities to everyone.
Conclusion
The property prices are increasing rapidly. People living in Pakistan or Overseas Pakistanis confidently invest in the properties for sale in Bahria Town Karachi. This society features a range of commercial and residential investment opportunities. Liberty Commercial Bahria Town Karachi is valuable for offering high investment returns. Furthermore, people who desire to construct the plaza and sell them out for business purposes can quickly grab the latest investment opportunities in Bahria Town commercials. At the same time, investors looking for properties to generate rent can prefer Liberty Commercials happily.
So, what are you thinking about? Invest in Bahria Town commercial plots to get the returns of your desires!
Please contact Universal Property Network For More Information click here or visit our youtube channel further assistance