Gwadar Master Plan to be Launched in August 2018 – Updated Master Plan of Gwadar Port City
by UPN
January 30, 2018
0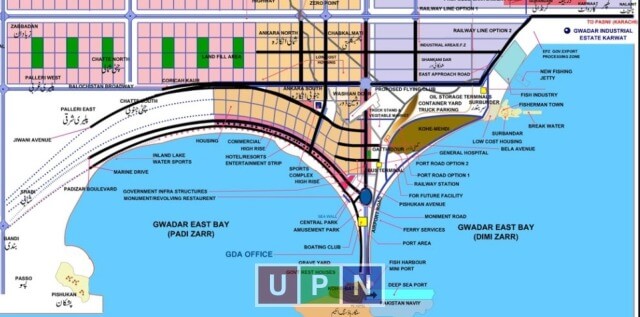 Gwadar Master Plan is set to be revised by Chinese architects and a finalized version will be provided for approval to Pakistani Government in August 2018. Meanwhile, Gwadar Development Authority (GDA) has been ordered by Federal Government to not grant any more NOC approval for new housing and commercial schemes until final approval of Gwadar Master Plan. This step was taken to develop a Model City in Gwadar and to discourage mushroom growth of housing schemes in the gateway of China-Pakistan Economic Corridor (CPEC).
Gwadar Master Plan Timeline
In early 2017, China and Pakistan agreed to prepare a master plan for Gwadar on the lines of a Smart Modern Port City. A Chinese grant of USD 4 Million was used to award the contract for developing Gwadar Master Plan. Chinese consultants are working on the project that was awarded in August 2017 and consultants will submit Gwadar Master Plan by August 14, 2018 for analysis and final approval by Pakistan Government.
This move was directed to streamline provision of public amenities, clearly laid out division between commercial and residential areas, better transportation network and ensuring civic facilities for future residents and visitors.
Ban on Housing Schemes
According to a news report published in a leading daily, Balochistan Government sent a proposal to Federal Government. Islamabad was askedto restart the launching of new housing and commercial projects in Gwadar in order to boost business activities in port city. But the proposal was rejected until the approval of New Gwadar Master Plan.
According to official figures, 103 housing schemes hold NOC approval from GDA with nearly 14,500 acres of land under their control. Under the advice of Federal Government and Chinese Government, GDA revoked NOC of housing schemes to avoid unplanned, haphazard and mushroom growth of housing schemes that could later become a problem for planned development of Gwadar City, creating civic challenges for GDA and Pakistan Government. A few of the housing schemes were able to get their NOCs restored after assuring GDA about their intention to provide top quality living conditions to their future residents. This restoration was made on provisional basis for 3 years, with condition of reviewing development of housing schemes on quarterly basis.
Now, although there are now new housing schemes up for launch in Gwadar at least till August 2018. But there are still some good profitable options available in Gwadar real estate market. Contact Universal Property Network now, if you are looking to invest in Gwadar plot files. We have plot files from most ideally located housing schemes where development is under-progress at a satisfactory pace.