Bahria Greens Karachi – Confirmed Location and Analysis
by UPN
July 3, 2020
0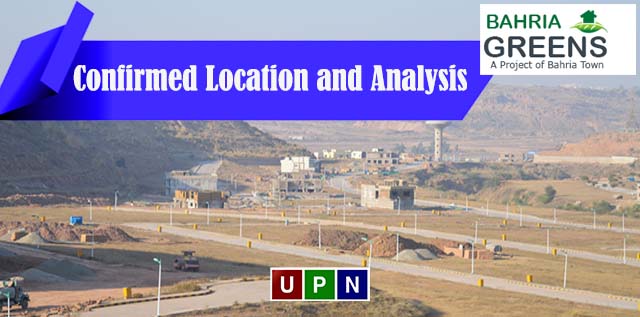 Bahria Town Karachi is all over the news after launching a beautiful project, "Bahria Greens." It is a low-cost scheme of small size plots offering the best residence to everyone in Pakistan. Bahria Greens Karachi is a low-cost housing project with the same facilities and high-standard lifestyle of Bahria Town Karachi. Announced a few days ago, this project is presented for the ease of middle-class and salaried persons. This project will feature the same attractions and features of Bahria Town Karachi, but here you have to pay less.
Owing to so many features like small size plots at affordable rates, the ease of installments, and delivery before the completion of the payment plan, Bahria Greens location is also nothing less than a big surprise.
When the project was announced, the authorities do not define its exact location. But now the location of this project is confirmed and also adding more value to the properties for sale in Bahria Greens.
Location of Bahria Greens Karachi
Bahria Greens Karachi is a separate gated community that will develop inside Bahria Town Karachi. Its location was not disclosed earlier, however, after the booking begins, Bahria Town has announced its confirmed location.
Bahria Greens Karachi will be located in the proximity of Rafi Cricket Stadium. It can be easily accessible on the drive of 2 to 3 minutes from the largest cricket stadium of Pakistan. This project is developing at the back of Precinct 37 and Precinct 38. Also, Sports City Villas of Precinct 35 will lies close to it.
Moreover, Eiffel Tower and some of the other precincts of Bahria Sports City are located in its surroundings.
Ideal Location and Its Impact on Bahria Greens Karachi
Bahria Town has smartly chosen the best location for developing its low-cost project, "Bahria Greens." Its location in the proximity of Rafi Cricket Stadium is adding more value to it. Rafi Cricket Stadium, Pakistan's largest cricket stadium, is developing rapidly. It will soon be ready to play, enjoy, and entertaining place. So, once it develops, the value for the properties in the surroundings will also increase.
Also, there are some expectations that Bahria Town is shifting their Head Office in Precinct 26A. So, this is another plus point, which makes Bahria Greens location more attractive.
Bahria Greens low-cost plots of 3 Marla are definitely the right choice for investors and end-users.  Overall, Bahria Greens is located at the hot-location of Bahria Town Karachi.
Contact us for more details!
Stay Updated with Universal Property Network!
Check out our site for more detail. Latest News