Supreme Court Announced Verdict on LDA City Lahore Case – A Good News for File Holders
by UPN
January 15, 2019
0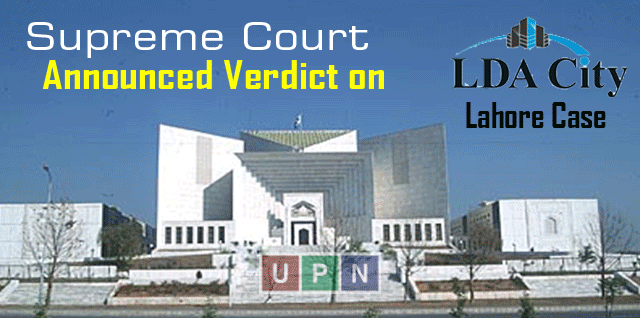 On Saturday, The Supreme Court has announced the verdict of LDA City Housing Scheme case after the Provincial Minister for Housing, Mehmood-ur-Rasheed, assured that the land will be allotted to the affectees of LDA City Lahore.
A two-judge bench headed by Chief Justice Mian Saqib Nisar heard an application by DG LDA, taking permission for buying and transferring the land for LDA city Lahore by the development partners.
According to the recent details of the hearing, the chief justice evinces temper on the addition of NAB officials in the committee that is formed to make sure the provision of the land or to return the investment to the file holders.
Chief Justice Mian Saqib Nisar remarked that people had made payments to get plots in LDA City and they were not provided to them. Thousands of people hold the plot files of LDA City and no injustice will be done to anyone.
Participation of Provincial Minister in LDA City Lahore Case
Provincial Minister for Housing, Mian Mehmood ur Rasheed at the outset of proceedings ensures that the government is taking this matter seriously and will bring a proper solution to the problem.
Provincial Minister submitted that the total number of file holders of LDA City is around 9000. He informed that 58,000 Kanal land had been acquired so far but the land is in distributed form and it is not possible to complete the project till attaining more land.
He further informed that the project will be completed in two phases. The 1st Phase of LDA City will be developed on 13,500 Kanal Land. They have already acquired 9,000 Kanal lands. However, 4,500 Kanal lands are remaining to obtain through the development partners of this project to adjust the affected file holders.
Later, the Supreme Court disposed of the case with an order to the development partners of LDA City to hand over the land of 4,500 Kanal in next 8 months. Chief Justice further ordered LDA, that if the development partners fail to deliver the leftover land of 4500 Kanal in the given time period, they can acquire it by force. However, the provincial minister said that no land will be taken by force.
Latest Updates & Details of LDA City Phase 1
Now the project will proceed in two phases. The Phase-1 of LDA City will be developed first on 13,500 Kanal lands. The remaining required land of 4,500 Kanal will be handed over by the development partners in next 8 months.
It's such good news for the file holders of LDA City who succeeded to hold the plot files in uncertain condition and did not get panic at any stage. Universal Property Network congratulates them and also hopes for the best.