Supreme Court Reopens Bahria Town and MDA Accounts
by UPN
January 9, 2019
0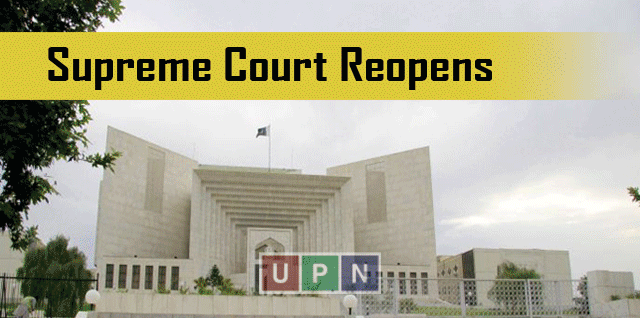 Supreme Court SC ordered to reopen MDA and Bahria Town accounts all over Pakistan. SC also ordered that it should be compiled after properly understanding it.
On Thursday, Aitzaz Ahsan, Counsel for Bahria Town, stated that the accounts of his clients were sealed by the private banks because of State Bank of Pakistan's order. Aitzaz Ahsan told this to three-member bench of the apex court and filed petition on Thursday. He also stated that this act of State Bank of Pakistan has affected the employees of Bahria Town. The development work was ceased and it was unable to pay salaries to the employees. The same issue was faced by MDA (Malir Development Authority).
Renaming Bahria Town
The court ordered the monitoring of two accounts and FIA exceeded its authority. This was observed by Mian Saqib Nisar, the Chief Justice (CJ). Mian Saqib Nisar also asked Aitzaz Ahsan for reason for the unchanged name of Bahria. He also stated that the court ordered to change its name but still Aitzaz Ahsan's client has not altered the name. The response was that the six months' time period which court gave is still valid and the work on the renaming procedure Is under-process which will be implemented before 6 months.
Chief Justice Mian Saqib Nisar also mentioned that the renaming process is not a big deal, he can change the name right away.
It is also important to mention over here that the CEO of Bahria Town Mr. Malik Riaz was restrained by a court in Rawalpindi in 2015 from using the name called Bahria for his housing society. In August 2018, Malik Riaz was again forbidden from using this name.
The top judge also mentioned that the order from the court was just related to the monitoring of accounts, not freezing them, so the accounts were not frozen on directives of court. Although the order of reopening the accounts has blown a new air of hope for the people like employees of both Bahria Town and Malir Development Authority.
Bahria Town – The Private Real Estate Company
Being a major private real estate development company, Bahria Town Limited manages properties across Pakistan. The founder is Malik Riaz Hussain and now its communities are also opened in cities like Lahore, Rawalpindi, and Karachi. There are also lots of facilities in Bahria Town like Mall of Lahore, the chain of cinemas, Bahria Icon Tower and private hospitals.
If you interested in investing in Bahria Town, without having a second thought, just call Universal Property Network. It is known to be the largest real estate network in Pakistan, which not only has the expert agents for assistance but it also gives you the best guidance in order to invest in the right place. If you want to get the latest updates about payment plans and happenings, then do not forget to subscribe UPN newsletter or keep viewing the latest news section on the website.