Tips to Become a Successful Real Estate Agent in Pakistan
by UPN
April 17, 2020
0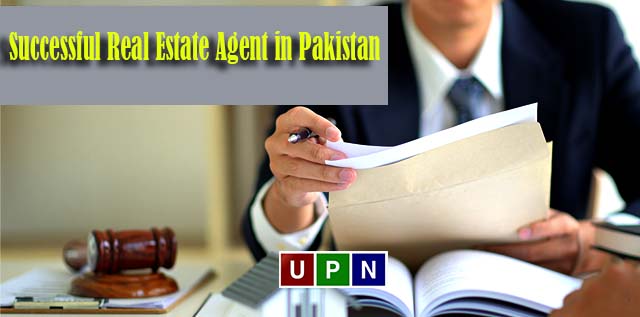 How to become a successful real estate agent in Pakistan? It is the most asked question and definitely, every real estate agent wants the answer. If you are also looking for the answer and also the best tips, keep reading this latest and the detailed write-up!
It is not a treasure hunt to become a successful real estate agent in Pakistan. Also, there are no carefully guarded secrets to it. However, at the same time, real estate can be a tricky business for someone who is not familiar with its moves.
The most commonly faced challenges for the real estate agents in Pakistan are:
Staying updated with the latest property laws and taxes
Partnering with other agents
Keeping clients satisfied and so on.
Essential Tips to Become a Successful Estate Agent
Before sharing the basic tips and tricks, the most important thing for a real estate agent is well-versed and has the potential to learn more.
Some of the key tips are:
Acquire Sufficient Knowledge of Real Estate Market
It is important for real estate agents to have enough knowledge of the real estate sector. He must have good experience in the local area. For this, you can start your business locally. You must be aware of the different types of properties for sale and also with the conditions associated with them.
Learn Continuously
One of the most important tips to consider becoming a successful real estate agent is continuous education. Active real estate agents always stay updated with the market trends and issues, which actually the clients need.
Be Tenacious
Both buyers and sellers of real estate sector always prefer a real estate agent that is tenacious. Therefore, to become an unbeaten real estate agent, it is important that you are determined, follow up quickly after the property is displayed for sale. For this, you should need to work very hard and never give up.
Good Communication Skills are Very Important
One of the top qualities of a good real estate agent is his good communication skills. Real estate agents pose impressive communication skills to promote themselves as the best dealers in the market.
Be Open to Technology
Real estate agents with good communication skills and have a good command of technology is more popular among people. They appear more up-to-date about the market trends and there are more chances that people consider them to get help in their property dealing.
Pay Attention to Details
Very important as well as the difficult task for a real estate agent is to satisfy its clients. And also, it is impossible unless a real estate agent is capable to pay heed to each and every detail. For example, he should be aware of tax laws, infrastructure development and zoning rules change quite often.
Be Honest In Your Passion
A real estate agent should not only be honest with his clients but also to his job as well. Honesty is the most important quality of a good real estate agent which helps to win the trust of people and convert them to loyal clients.
Connections and Representation
To become successful, a real estate agent should already have good connections with buyers and also with other realtors. He must be willing to work with other realtors whenever needed.
Stay Updated with Universal Property Network!
Check out our site for more detail. Latest News