Top 5 Reasons to Invest in IT Market Lahore
by UPN
February 24, 2021
0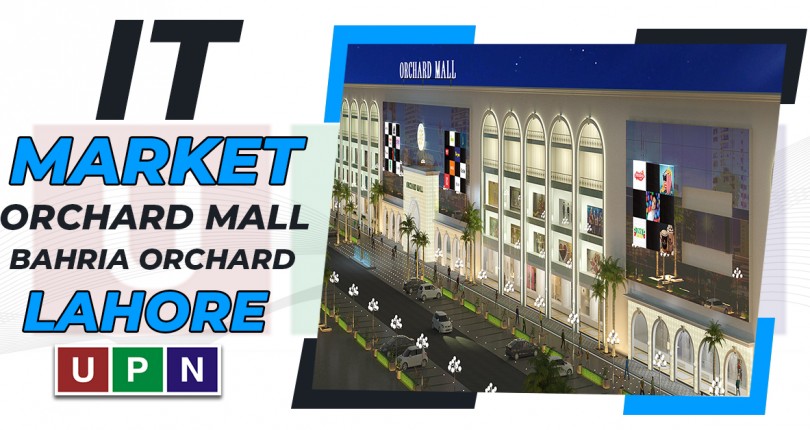 Q-Links Developers has recently announced the most attractive IT market in Lahore. This attention-catching and very profitable development is made on Raiwind Road in Orchard Mall. IT Market Orchard Mall Lahore is impressively designed to provide IT-related products and services under one roof. Indeed, it will be a one-stop solution to all the gadget needs in Lahore. Offering shops of several sizes, all these properties of IT Market Lahore are available with an easy installment plan of 3 years.
Located ideally, this IT Market in Lahore is attractive to investors for many reasons. However, some of these top reasons are:
Targeted Market
This IT Market in Orchard Mall is smartly designed to develop it as a complete solution for all the technology-related products needs. Here you will find a huge variety of computers, laptops, mobiles, gaming devices, and almost everything related to information technology.
Developing on the fourth floor of Orchard Mall, this IT Market will have all the technology products available under one roof.
The demand for such products is already very high and even it is increasing more and more with time. So, buying a shop in IT Market in Orchard Mall can be a wise and profitable decision.
Low – Price Shops with Easy
The prices of shops in IT Market Lahore are kept reasonable. Moreover, Q-Links Developers are also providing the ease of 3 years easy installments. IT Market in Orchard Mall shops is available in the price bracket of 15 lacs to 38 lacs. These prices are different as per location and size.  Booking of the shops is starting from 5.50 lacs only.
So, by just paying this minimal amount of booking, you can become an owner of the best commercial property in Lahore. Most of the time, an investor fails to buy his desire commercial property just because of the demand for a lump-sum payment. While in the case of IT Market Lahore, not only the prices are low but also the convenient payment plan is offered for the ease of everyone.
Expected Footfall
IT Market in Orchard Mall Lahore is an iconic development where we expect a huge footfall. This project is located ideally as well as its shops are lying between the franchises of Apple and Samsung.  This amazing location will indeed benefit the overall IT Market.
Moreover, Orchard Mall Lahore is developing with a spacious play area, a heart-winning food court, and a shopping center. Additionally, the purchasing power of the residents of the Bahria Orchard in all phases as well as that of the other societies will make this project successful.
Development Status
Another big reason to invest in the IT Market in Orchard Mall Lahore is the impressive development status. Q-Links Developers have launched and working on so many projects. But they are developing this Orchard Mall Lahore at the fastest pace. Even, it would be right to say that it will be the first project to be delivered first among all the other on-going developments.
The grey structure of the basement, ground, first, and second floors is ready while the finishing work is near completion. Soon, the possession of the properties will be handover.
Business Opportunity
IT Market in Orchard Mall is offering a good opportunity for those who want to start their own business. The shops available for sale in IT Market Lahore are suitable to start any kind of business/outlet related to IT. You cannot only buy them to sell out the items but also to provide modification, repairing, and other services.
The surroundings of the project are reasonable as well as it's a good commercial property to buy in Lahore.
So, do invest in the IT Market shops of Orchard Mall Lahore by contacting  Universal Property Network  .For More Information click here or visit our youtube channel