Transport in Bahria Town Karachi – Important Details
by UPN
January 17, 2022
0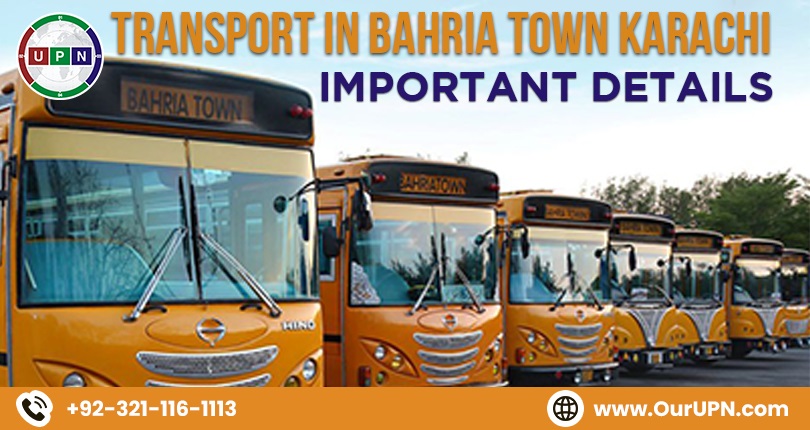 Bahria Town Karachi is a state-of-the-art housing society in the largest city Karachi. It is a mega housing venture with a large area of land. Comprises several sub-projects and several precincts, this project offers the basic life facilities to the luxuries of this modern age. It was launched in 2014, the time when its management has promised to provide all the top-class facilities in it. That's why despite its location away from the main city Karachi, people relocated to it. Over time, the ratio of population increased there. Currently, it is grown into a ready to live place. With all the latest amenities, the transport facilities in Bahria Town Karachi are also outstanding.
This latest blog post will discuss the complete transportation details in Bahria Town Karachi. So, let's begin:
Transport in Bahria Town Karachi
Bahria Town Karachi is a beautiful city with lots of attractions. People living in this society, as well as outsiders, love to visit these significant developments. To provide these residents and visitors, Bahria Town is providing Sightseeing Bus service. At the same time, Bahria Town Shuttle Service to several areas of Karachi meets the travelling needs of people.
Shuttle Bus Service in Bahria Town Karachi
To meet the needs of transport in Bahria Town Karachi, its management is running two shuttle buses. These buses move to Malir and Sohrab Goth. Providing everyone with the ease of transportation, these buses are undoubtedly extremely advantageous. In other words, Bahria Town Shuttle Bus Services are providing pick-up and drop-off services to them. These buses have their own timings as one takes to Malir Halts (Printing Press), while the other moves to Sohrab Goth from Bahria Town.
Bus No.1: Bahria Town Karachi to Malir Halts (Printing Press) and Malir Halts to Bahria Town Karachi.
Bus No 2: Bahria Town to Sohrab Goth and then Sohrab Goth to Bahria Town Karachi.
Timing of Shuttle Buses in Bahria Town Karachi
Both these buses make three trips in a single day. They move from Bahria Town Karachi to their respective destination while the tour begins in Precinct 10. The details of the route and timings have been posted on the timetable at the bus stop in Precinct 10. These buses get operational at 7:15 am, and 7:30 am every day.
The fare of these buses is Rs. 50 per person only.
Double Decker Bus Service in Bahria Town Karachi
Bahria Town Pvt. Ltd has also launched a sightseeing bus service for the residents and visitors of this society. The purpose of this service is to facilitate the people and provide them quality entertainment they are looking for. These sightseeing services are especially operational through Double-Decker Buses. However, this service is only available on Friday, Saturday and Sunday.
A sightseeing bus will pass through the route of all the major attractions and landmarks of Bahria Town Karachi. Stops on this sightseeing bus services are:
Trafalgar Square
Bahria Town Head Office
Bahria Night Safari
International Standard Theme Park
 Malik Square
 Grand Jamia Mosque – Third Largest Mosque of the World
  Rayhan Hills Golf Club
 Midway Commercial
  Dancing Fountain
  Rafi Cricket Stadium – Largest Cricket Stadium of Pakistan
  Bahria Heights
  Ali Villa
This bus transport in Bahria Town Karachi to visit major attractions begin its journey from Bahria Carnival Area located in the proximity of Main Entrance.
Rent A Car
People residing in Bahria Town Karachi or the visitors can easily get rent a car service. This service is easily available in almost all the populated precincts of Bahria Town. Providing people with the facility to move here and there, one can easily rent out a car as per his desires. Moreover, the fare will be charged per kilometer.
While summing up all these details, we conclude that Bahria Town Karachi is rich in facilities, whether it is basic necessities or high-level transportation facilities.
So, don't wait and make an investment in Bahria Town's best properties where residing and investment will surely return you more than your expectations. We have a wide range of options available in apartments, villas, houses, and plots. Moreover, you can also get profitable opportunities in commercial categories. Contact UPN for further details! We are here to serve you with the best.
Please contact Universal Property Network For More Information click here or visit our youtube channel further assistance