Bahria Town Karachi Apartments on Installments
by UPN
January 24, 2022
0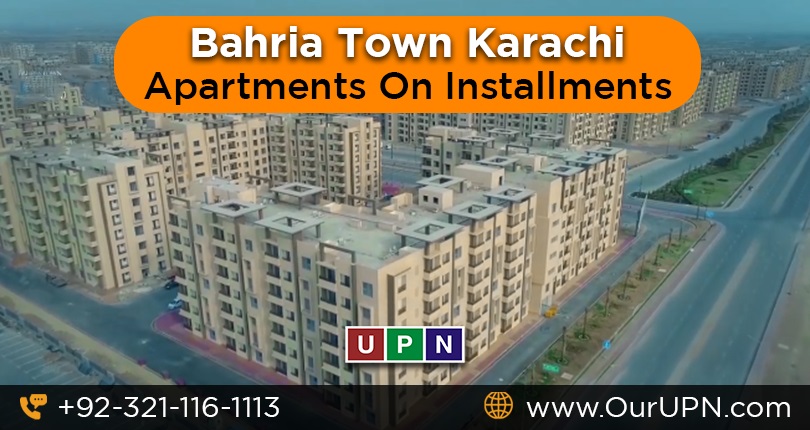 Bahria Town Karachi is a beautiful housing venture with a bundle of options available in residential and commercial categories. Located ideally at the city's outskirts, the location, development, and current inhabitation ratio are all impressive. It's an international standard community where facilities and features are unmatchable. That's why everyone desires to live there. But at the same time, many buyers are looking for Bahria Town Karachi apartments on installments.
When the society was launched, several constructed properties came with the options of easy payment plans. But currently, you can only buy them on lump-sum payments. So, what to do if you are also searching for an apartment on installment in Bahria Town Karachi.
Well, don't worry; we UPN still have some of the best options available. Learn more:
Bahria Town Karachi Apartments on Installments
The apartments you can buy with a convenient payment plan are:
Descon Towers Karachi
This project features the heart-winning high-rise buildings located ideally. Comprising two towers, previously, it was a part of Bahria Heights but is now popular as Descon Towers. These towers are offering 2 beds luxury apartments similar in structure to Bahria Heights Apartments. But the only difference is in the sizes. These apartments are 1400 sq ft in size. Moreover, Descon Towers offers apartments in two categories, i.e., Outer Apartments and Inner Apartments.
These towers are ready in grey structure even the finishing work is going on smoothly. Hopefully, it will get completed soon. Despite these so many attractions, these 2 beds apartments are still available with convenient payment plans. These Bahria Town apartments on installments prices are:
Descon Inner Apartments Price: 85 Lacs
Booking Amount: 13.50 Lacs
Monthly Installment: 60 – 61 Lacs
On Possession: 10 Lacs
Descon Outer Apartments: 90 Lacs
Booking Amount: 18 Lac
Monthly Installment: 60 – 61 Lacs
On Possession: 10 Lacs  
Location of Descon Towers
These two beautiful towers are located at the junction of Precinct 8 and Precinct 9. Descon Towers are close to Precinct 12 and Grand Jamia Mosque. The distance of these buildings from the main gate of Bahria Town is only 6 to 7 kilometres. Moreover, Bahria Heights's two towers, Tower J and Tower K, are adjacent. Other attractions in the proximity are Theme Park and Danzoo.
Paragon Towers Karachi
This is another best option to get Bahria Town Karachi apartments on installments. These are beautiful high-rise buildings with 2 beds apartments for sale. Located in Precinct 17, Paragon Towers are also part of Bahria Heights, ready in grey structure. The development work of these towers has been stopped for the last 1.5 years. However, only a few months ago, Bahria Town Management has handed over these builders to Paragon Developers.
Offering perfectly designed apartments covering an area of 1150 sq ft, these are the best apartments to choose from. Paragon Towers are the ground + 9 storey apartments buildings that offer spacious living spaces. The launching prices of apartments are also reasonable. Moreover, the flexible payment plan of 3 years is adding more charm to them. Further details of prices are:
Paragon Towers Apartment Price: 84 Lacs
Booking Amount: 15 Lacs
36 Monthly Installments
On Possession: 5 Lacs
Location of Paragon Towers Karachi
These beautiful towers are located at a distance of 5 Km from the entrance of Bahria Town Karachi. These towers are located in Precinct 17 on Main Jinnah Avenue. Paragon Towers have good development and residence in the surroundings. Moreover, the location is close to Ali Villa Bahria Town.
Why You Should Buy Bahria Town Karachi Apartments on Installments
Both these apartments' projects are ideal to choose from. Descon Towers and Paragon Towers are part of the Bahria Heights project. However, handed over to well-known developers for on-time delivery. The prices of apartments in these high-rise buildings are affordable. For example, the same size apartments in Bahria Heights Tower A and Tower H where the possession is announced are available in 1. 10 crores. Similarly, 2 beds Bahria Apartments Precinct 19 will cost you around 1.30 crores. Also, these can be purchased on lump-sum payments only.
Buying in Descon Towers and Paragon Towers is beneficial because of:
Reasonable Prices
Ideal Location and Impressive Surroundings
Availability on Easy Installments
High Investment Returns
Once these high-rise buildings development work completes and has possession, the prices will be similar to Bahria Apartments Precincts 19.
So, what are you waiting for? Buy these Bahria Town Karachi apartments on installments to get the best living spaces.
Please contact Universal Property Network For More Information click here or visit our youtube channel further assistance