Useful Tips for Real Estate Investment in Pakistan
by UPN
February 6, 2020
0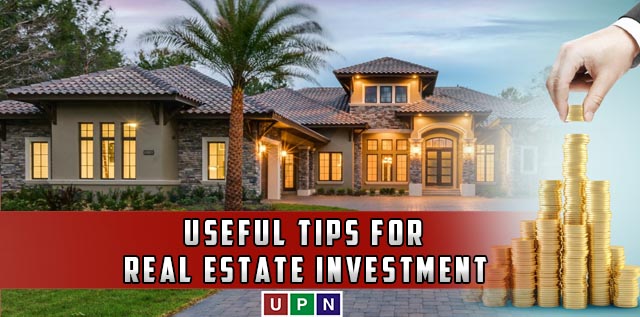 The real estate sector of Pakistan is among the most successful sectors of our country. It is its success and growth that every potential investor prefers to invest in it. But being successful and earn good profit in all real estate investments is not possible. For this, you need to know about the realities of real estate investment, must have adequate knowledge as well as proper research.
Firstly, there is not a single definition of real estate investment. It involves different perspectives and processes. So, today, in this latest blog we will share some important tips for real estate investment in Pakistan, you can consider before making real estate investment in Pakistan.
Buying a Plot File
Plot File is basically a property that will be developed in the future. Yes, it is your plot in an area specified in your desired society with no allocation. Buying plot files are mostly popular among future investors. Once a plot file has been associated with any established area, the rates of the area automatically increase.
This means that the investor will get more return on his investment.
Another advantage of buying plot files is that these are available at reasonable prices. So, investors with fewer budgets can easily invest in good property in earlier stages.
Investment in Plots For Reselling
Buying a plot for reselling it at the best prices is usually a common practice in the property sector of Pakistan. Most of the investors buy a property and then wait for its value to go up. When it does, they sell their property at profitable prices. So, they easily make a handsome profit with it.
Once a property develops, its prices get better and higher with time. However, all the properties will not return you with a good profit. So, it is important to be careful in this process. For this, we must do proper research on the popularity and demand of the desired property.
Renting Out a Property
Another good option to make real estate investments is to buy a property to rent out.
Yes, you can buy a house, apartment, or commercial property and can get more income from it. Buying the highly-demandable property and then renting out it will definitely return you with the best and regular rental income.
Investment in Open Land
Buying a large chunk of lands for development purposes is relatively a safer yet rarer type of real estate investment.
Basically, it revolves around buying open land which is not a part of any society. Being an investor, you can invest in an open land and can re-sale it to a developer at the more profitable rates.
For this, you can consider buying open land in Gwadar where the land is available at the most attractive prices. Moreover, the demand for Open Land in Gwadar is really high. So, it will be a better real estate investment for smart investors.
Advantages & Disadvantages of Real Estate Investment
Making the investment in the property market is not so easy as many thinks. There are many advantages as well as disadvantages of property investment in Pakistan. That's why you need to be careful before investing your hard-earn money in any property.
Advantages
Potential for better returns on investment
A solid asset that will give you profit
On renting out, you will get regular rental income
You can use it for personal use
Disadvantages
Urgent liquidation of the real estate is not possible
There are many property taxes involved
You will get not a good return as expected
Values of your property can be fallen down in certain situations
Maybe fraudulent practices come in between
Steps to Be Taken
Make a plan for property investment
Do proper research
Invest in attractive and high-in-demand property
Wait for the right time to sell it
Do not depend on one agent
Remain updated with the latest property prices
Verify the property documents
Check out our site for more detail. Latest News
Stay updated with Universal Property Network!