Where to Invest in Commercial Property in Karachi
by UPN
December 15, 2020
0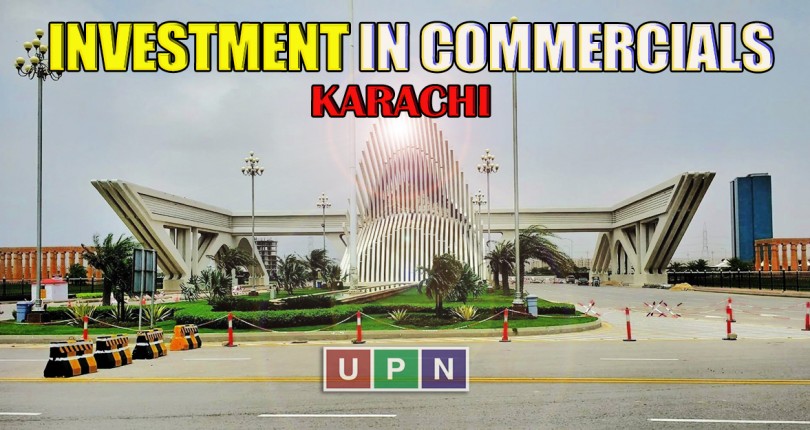 Investment in the commercials is excellent and profitable to earn desires in profits. However, when it comes to buying commercial property in Karachi, we to must have to take different things into account. Several commercial properties such as plots, shops, showrooms, and offices are available for sale in Karachi. But investment in commercials can only be useful when done right. So, if you are looking for the best commercial investment opportunity in Karachi, do check out the top options provided below:
Commercial Investment in Bahria Town Karachi
Bahria Town Karachi is a mega housing project with countless opportunities for investment in commercials. Since its inception, this master-planned community is maintaining its crown to be the best real estate development on Karachi's landscape.
The top commercial properties in Bahria Town Karachi are available on Main Jinnah Avenue near the entrance. Several commercials and mix-used projects are offering shops, offices, and showrooms for sale.
Some of these projects are developed with the private but the authorized dealers of Bahria Town. Most importantly, the 500 sq yards commercial plots on Main Jinnah Avenue are ideal to choose from.
Additionally, Midway Commercials, the commercial hub of Bahria Town Karachi, offers the best 125 sq yards commercial plots. You can also choose the bigger size plots of Liberty Commercial lies close to International Standard Theme Park.
Even Bahria Town has recently announced Quaid Commercials where the plots of 133 sq yards are available on installments. These commercials are located in the surroundings of Precinct 1, Precinct 2, and Precinct 3.
Not only this, but Bahria Town Karachi provides you with numerous commercial investment opportunities. The sizes, categories, and prices of these commercials are different so that one can easily choose as per his requirements.
DHA Karachi
Spreading over 8000 acres, DHA Karachi is the second-best option to buy commercial property in Karachi. DHA Karachi is comprising many phases where the thoughtfully planned commercial opportunities are available. However, DHA Phase 8, DHA Phase 7 Extension, Phase 6, and DHA Phase 7 are the top most popular commercial investment areas.
DHA City Karachi
DHA City Karachi is divided into 16 sectors where the profitable commercial plots, shops, and offices are available for potential investors. These properties' prices are different as per location and size; however, all of them come with high-end amenities and unique features.
By keeping the recent purchasing into account, we can say investing in the commercials of Sector 6, Sector 9, Sector 14, and Sector 2 can be more profitable.
All the above-mentioned commercial properties in Karachi are right to choose. However, we suggest you contacting us at  Universal Property Network today!
For More Information click here or visit our youtube channel further assistance