Where to Invest? Top 3 Societies To Invest In Pakistan For Best Returns
by UPN
July 31, 2018
0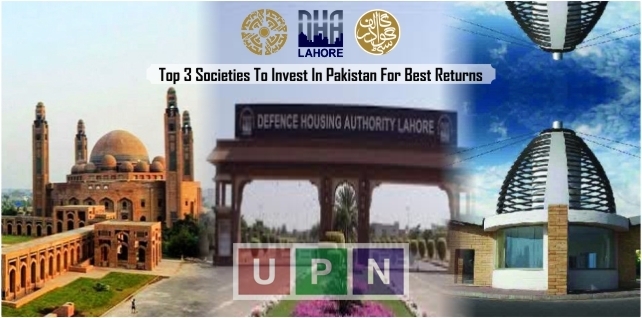 Are you aspiring to become an investor in the real estate sector? While it is no news that you need to have a load of money to become an investor, the real concern is how safe your hard earned money would be if you invest them in property. One article cannot provide you insights on the entire country but we will try to be as perfect as we can be here. This guide can help you make better decisions and especially for the Pakistanis who cannot visit very often.
The most important rule to make a safe investment is, always invest in popular and trusted brands, this applies in the real estate sector too. It is agreed that you may have got better ROI by investing in smaller or unbranded projects, but it is always preferred to play it safe. We have shortlisted some of the most trusted and well-known brands of societies that you can invest in without batting an eyelid. Our recommendations are based on their past performances, their reputation, delivery as promised and satisfied customers. Also, the demand for houses and plots in these societies is still high.
Defence Housing Authority (DHA)
Considering the fact that it is an armed forces managed society, DHA has never failed to impress. Being located in the prime locations of the city it can also be said it is the pioneer of modern housing societies in Pakistan. DHA Lahore, Karachi & Multan have been a massive hit and property here is still in huge demand. Prices have almost doubled twice since the launch of DHA Lahore & Karachi. You can choose various plot sizes as this society is definitely for the elites. Rest assured your money invested here is always safe and guaranteed to provide boastful ROI.
Bahria Town
Who hasn't heard of Bahria Town now? The society that aims to bring the Seven Wonders of the World to Pakistan is a brand owned by Malik Riaz, business & real estate tycoon. Some investors have raised arguments based on its filing system, but it is another safe investment society that clearly makes its way into the list. Unlike the DHA, trading here is very similar to the trends observed in the stock market. By staying in touch with our website, you can easily know where the wind is blowing and what to expect of your investment. Investing in Bahria has never let down the investors.
Gwadar Golf City
A project by BSM Developers and the very first golf course theme based in port city is a state of the art society boasting a lavish life style with contemporary amenities. Having its CEO Mr. Bilal Bashir Malik grandson of country's top real estate tycoon Mr. Malik Riaz also Patron-in-Chief of BSM Developers. In patronage of country's biggest property magnate, BSM Developers is committed to carrying forward the legacy of providing quality housing with top-notch facilities. Investment opportunities here are ample with guaranteed ROI. While the property rates here are fluctuating, we recommend contacting our expert realtors & advisors to know about the latest updates.