Why You Should Invest in Bahria Town Karachi?
by UPN
November 26, 2021
0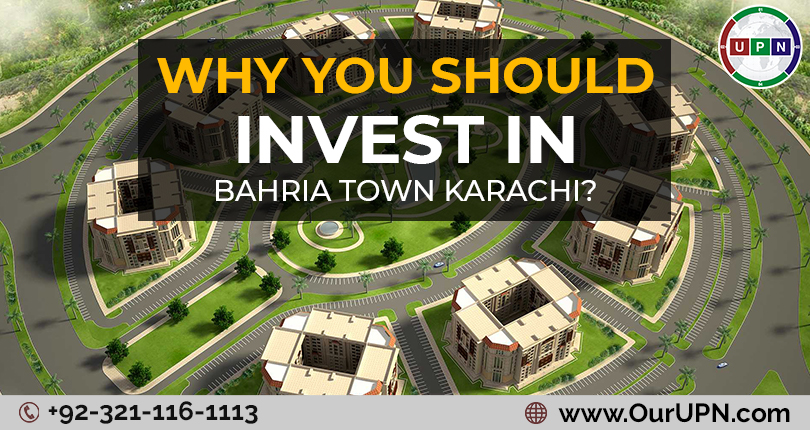 Bahria Town Karachi is a masterpiece, an unmatchable housing society in Pakistan. It is the most extensive real estate development, a complete city in the city of lights. This Bahria Town in Karachi holds significant importance in the real estate sector of the county. Designed excellently on exceptional ideas and advanced modes, this society has countless attractions. Offering high-standard properties for sale, which perfectly facilitate modern buyers and investors. Buying in this appealing society is beneficial for so many reasons. However, many people are still in search of some solid reasons for investment in Bahria Town Karachi. If you are also one of them, please keep on reading.
Reasons For Investment in Bahria Town Karachi
Check the details below:
International Standard Housing Society
Bahria Town Karachi is an international standard, high-level project. It is planned on the latest ideas and as per the requirements of the modern age.  This society has state of the art infrastructure, advanced development, and world-class amenities. It's a well-maintained project, an ideal example of perfect management. Everything in this society has its value and importance. Featuring the best properties for residential purposes and has a range of commercials to facilitate investors and the business community.
From zero power outage and no-load shedding to top-class leisure facilities like the iconic development of Theme Park is a part of Moreover, the serviceable sewerage system of this society allows people to enjoy heavy rains. All these reasons together attract people for investment in Bahria Town Karachi.
High Standard Living with Affordability
Bahria Town Karachi is an advanced standard housing project where living is full of comfort. This society offers all the top-notch facilities one can desire in its surroundings. Even Bahria Town has several attractions that are hard to find in anyone else. This society has a whole heart, from a neat and clean environment to luxurious golf courses, sports complexes, cinemas, and iconic monuments.
But despite all these high-standard living facilities, Bahria Town Karachi properties are reasonable. The amenities provided in this gated community are not less than DHA, but the prices are less than half of it.
For example, the residential plots of 125 sq yards' starting prices are 25 lacs and vary depending on location. Similarly, the starting price for 250 sq yards is 45 lacs. Therefore, finding anything in the price bracket of 25 – 30 lacs in DHA Housing Societies is impossible.
Reliable Security
Bahria Town Karachi is the most peaceful place to live your dream lifestyle. The reason behind all these comforts and peaceful environment is the high-standard security. Bahria Town is providing its residents with 24/7 security and surveillance. Up-to-date security devices are working throughout society; moreover, high-trained security personnel are also a part of it. This overall security system is a reason for the peace and happiness of residents in Bahria Town Karachi.
Healthy Lifestyle and Healthcare Facilities
Bahria Town is developed with lush green parks and green landscapes. These developments play a vital role in making the environment fresh and joyful. Many plants and trees are grown throughout this society, adding beauty and creating a heart-winning living environment. Moreover, Bahria Town has an efficient cleaning system, which keeps every place neat and clean.
The healthcare facilities in Bahria Town Karachi are of international standards. Bahria Town hospital is already operational there, offering up to date medical facilities. The staff working there is highly educated and well-trained. Also, several other clinics and dispensaries are available at the services of Bahria Town residents.
Why Bahria Town Karachi?
Buying in Bahria Town is the heartiest desire of every investor. This society is a benchmark for other societies. It's a unique housing project with a modern and luxurious lifestyle. Moreover, people from all around Pakistan, even Overseas Pakistanis, are moving to Bahria Town. Its serene environment and unmatched lifestyle is a reason for investment in Bahria Town Karachi.
Same Size Plots in Different Prices
Since Bahria Town is divided into several blocks, anyone can easily find his desired plot sizes at different prices. The good thing is that the prices of the same size plots vary from precinct to precinct. This variation in the prices is because of location, surrounding development, and inhabitation.
So, one looking for budget-friendly properties with a luxurious lifestyle can confidently invest in this society. This housing project is a right choice for people looking for the best commercials. These commercial properties include plots, shops, and offices offering good return on investment and high rental incomes. Also, it's an excellent place of builders. A range of options are available in construction category. One can buy a plot as per his requirements and construct a plaza/a multi-storey project. Overall, this town in Karachi is a one-stop solution to all your property needs.
We are sure that all these reasons are enough for investment in Bahria Town Karachi.
Please contact Universal Property Network For More Information click here or visit our youtube channel further assistance