100% Surcharge Waiver Policy for Bahria Town Karachi
by UPN
April 13, 2021
0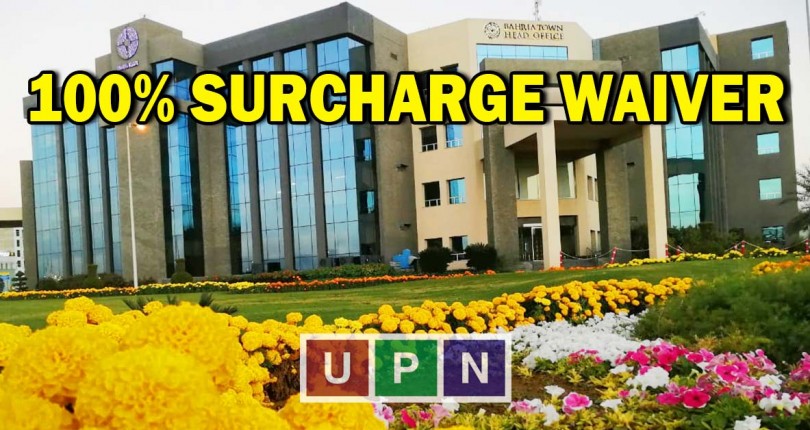 100% Surcharge Waiver Policy for Bahria Town Karachi
Bahria Town has always proved to be the best choice for investors and buyers because of its investor-friendly policies. Bahria Town Karachi, a mega housing venture, is commonly known as Investors' paradise, where everyone loves to invest and reside. It's not just a housing society but a way to opportunities that comes with countless benefits. Undoubtedly, Bahria Town has always shown care and provides ease of investment to its valuable customers. Similarly, now the administration of Bahria Town Karachi has come with another great relaxation and useful Surcharge Waiver policy.
Yes, Bahria Town Karachi has finally announced the 100% Surcharge Waiver Policy of 2021. According to the notice, the last date to get benefit from this surcharge waiver is 28th April 2021.
Bahria Town Karachi 100% Surcharge Waiver
Bahria Town has announced a 100% surcharge waiver policy for all Bahria Town Karachi's commercial projects. This policy is announced to facilitate all the members with active files. The public notice issued by Bahria Town's management reads:
100% surcharge will be given to all the active files of Bahria Town Karachi's commercial projects upon the clearance of all due installments.
Moreover, this notice advises all the owners of commercials' active files to update all their payment before or by 28th April 2021.
We also advise our valuable customers to update all their payments before the given deadline.
Bahria Town Karachi and Its Surcharge Waiver Policy
Bahria Town announces such Surcharge Waiver Policy every year but for a certain time period. This year, Bahria Town has announced the same 100% Surcharge Wave Policy that will be valid till 28th April 2021. However, the only difference in this policy of 2021 is that it is only announced for commercial projects. It means the relaxation is only given to the owners of commercial properties, not to the residential.
So, what the owners with residential plot files should do? We suggest making direct contact with the Bahria Town administration can bring them a solution. If you are a residential plot owner and have outstanding dues, as well as there is some fine on your installments, you can confidently ask Bahria Town management to facilitate you with Surcharge Waiver Policy.
This process will take the time or need your efforts; however, we are sure that Bahria Town will definitely look into this matter.
Contact us for further assistance.
Please contact Universal Property Network  For More Information click here or visit our youtube channel further assistance