125 Sq. Yards Plots in Bahria Town Karachi – Why It's Best Time to Buy
by UPN
May 23, 2018
0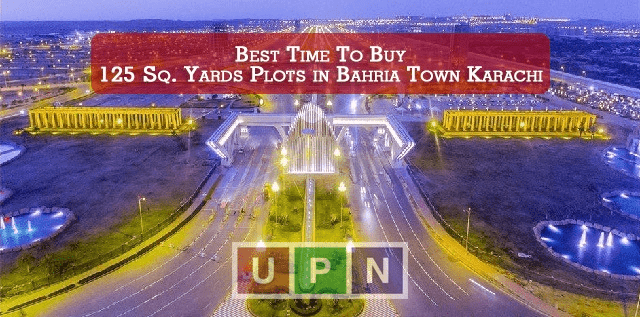 125 sq. yards plots in Bahria Town Karachi have always been the favorite market for buyers since its inception. Now after 3 or 4 years, buyers' interest for this smallest cutting is still the same. In the first phase of Bahria Town Karachi, these files were instantly purchased and even today these plots are high-on-demand. The recently held balloting has enhanced its appeal further and trading of 125 Sq. yards plots is on peak. It is relatively bigger market as per ratio in Bahria Town Karachi but there are some other factors which encourage buyers to purchase these plots. We are highlighting the prominent ones here.
Affordable Rates
125 sq. yards plots are still available at affordable price range from Rs. 19. Lacs to Rs. 55 Lacs at at lump sum payment. The installment plan has been completed in all 16 precincts of Bahria Town Karachi where these plots are available by re-sale. The price variation is largely dependent on overall location of precinct and positioning of the plot.
Possession to be offered Soon
The allotment number has been allotted against almost all 125 sq. yards plots in the balloting that took place recently. Moreover, possession is soon to be announced where it has not been delivered yet. Combining both, these 125 sq. yards plots will be even more irresistible for buyers in the upcoming days.
90% Development of Completed in Almost All Precincts
In most of the precincts in which these 125 sq. yards plots are located, plots development is either completed or near completion. After on ground observation, we can say that almost 90% development of plots is completed in most of the precincts, so buying now would be a smart decision.
Rates of Increase in Future
The feats including balloting and expected possession will increase prices of 125 sq. yards plots for sure. The development factor comes into play as well to inch up the prices in future.
Construction (Private) of Houses Started
In Ali Block (Precinand some other precincts, private construction of houses is underway now. Now these 125 sq. yards plots are equally good for buyers who want to keep residency and for investors/builders.
Universal Property Network (UPN) has a number of options in 125 Sq. yards plots. Please feel free to contact our realtors and get the best one for you.