Bahria Paradise And Bahria Sports City – Notice for Booking Cancellation
by UPN
May 19, 2018
0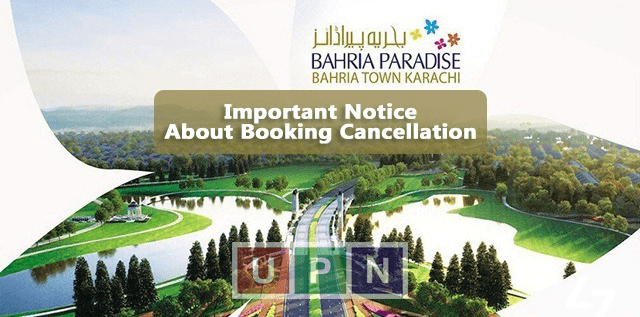 Bahria Paradise and Bahria Sports City are two of fastest developing and most sought after projects of Bahria Town Karachi. Both these sub-projects have a higher ratio when it comes to property trade and public demand. Launched in Phase 4 and Phase 3 of Bahria Town Karachi respectively, fast-paced development is continued on site of both projects. Installment period is also continued for files of these exclusive ventures and currently Bahria Town Karachi has issued a notice for payment of installments. This notice is particularly about those people who have not paid their installments within set time.
Bahria Paradise & Bahria Sports City – Public Notice for Booking of Cancellation
In this notice, Bahria Town Karachi has addressed those clients of the mentioned projects (Bahria Sports City & Bahria Paradise) who are in default of two or more installments. Bahria Town Karachi has directed these clients to pay their due installments (two or more) by 30th May, 2018. These clients have been warned that if they fail to pay these installments, bookings of their files will be cancelled. It has been clearly mentioned in the notice that once booking is cancelled it won't be restored in any case. Refund is preconditioned to company policy and it won't be changed in any case.
How to Pay These Installments
For the ease of customers, installments can be paid through cash/demand drafts at all bahria town offices authorized bank branches.
Number of Installments Paid
For the broader understating of our viewers, we are mentioning here about the total number of installments paid in these projects. Bahria Paradise is relatively a new project launched last year and only three quarterly installments have been paid so far for it files. Bahria Sports City was launched a couple of years ago and eight out of total sixteen installments have been submitted and still two years plan remains.
Hurry up guys if you have not paid installments yet, you still have chance to avoid cancellation of booking.
For more updates and latest information, please keep visiting Universal Property Network (UPN).