Buying Ready to move in Villas in Bahria Town Karachi – A Wise Decision
by UPN
May 24, 2018
0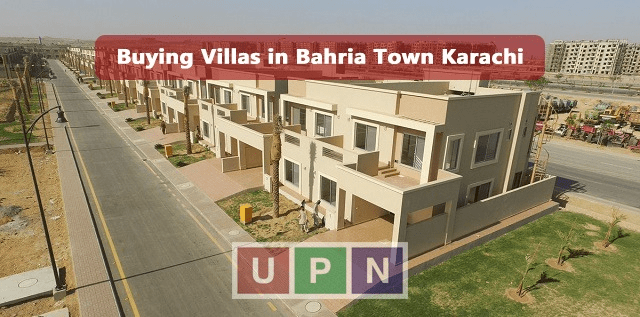 Bahria Town Karachi features ready-to-move-in properties which are either livable by all aspects or close to finishing (nearing completion). In comparison to the plot-files or balloted/un-balloted plots, these built villas/homes have come up as a better option. Generally buyers prefer to select that property which is developed or on ground whether it is plot or a house. In this case, these constructed homes or villas are ideal choice for secure investment and prove a wise decision for buyers. That is why, these villas are trending in the market so let us we look at few options available in this category.
Iqbal Villas & Quaid Villas, Precinct 2
Located in Precinct 2, Iqbal Villas and Quaid Villas are perfect to live and enjoy lifestyle of Bahria Town Karachi. The 3-bedroom villas cover 150 sq. yards and 200 sq yards area respectively and are at walking distance from the main entrance of Bahria Town Karachi. The possession of these villas have been delivered and and all standard facilities of life available here. The price range of 150 sq. yards Iqbal Villas is Rs. 125 Lacs to Rs. 145 Lacs while 200 sq. yards Quaid Villas can be purchased in Rs. 175 Lacs to Rs. 195 Lacs price bracket.
Precinct 10A & 11A Villas (200 sq. yards)
The 200 villas (Bahria Homes) in Precinct 10A and 11A of 200 sq yards are ideal to buy now. In Precinct 10A development of villas has almost completed and possession has been delivered. Precinct 11A villas are approaching towards completion and the finishing work is in process. These villas with 3-bedroom accommodation are available in price range from Rs. 105 lacs to Rs. 118 Lacs.
Precinct 27 Villas (200 sq. yards)
Precinct 27 is the quite suitable option for investment in Bahria Town Karachi where price is comparatively quite economical. The grey structure of these villas has almost completed whereas possession to be announced soon. Ideal location alongside 400ft wide Jinnah Avenue makes it a preferred choice among buyers and landmarked like Grand Jamia Mosque is in vicinity. Available in price ranging from Rs. 95 lacs to Rs. 120 lacs depending upon positioning, these villas are smart choice for future.
Precinct 31 Villas (235 sq. yards)
The 3-bedroom Precinct 31 villas with covered area of 235 sq. yards are near completion and will get possession soon. With ideal location at walking distance from Main Jinnah Avenue, these villas offer ample living space with an open courtyard at the rear area. Having Rafi Cricket Stadium near about, these villas are available in price range of Rs. 85 Lacs – Rs. 108 Lacs.
Bahria Sports City Villas (350 Sq. yards)
Bahria Sports City luxury villas with 4-bedroom accommodation are on top of all other options for its amazing location next to Rafi Cricket Stadium in Precinct 35. By all means, these villas are icon of high-end luxury near country's biggest cricket stadium which is in development phase. The delivery of keys (possession) is a major plus for Bahria Sports City Villas which are available in Rs. 155 Lacs to Rs. 185 price range.
To invest in any of these villas, please feel free to contact our realtors for complete guidance and consultancy. Keep visiting Universal Property Network (UPN) for more information and latest updates.