Attractive Facilities Available in Only Bahria Town Projects
by UPN
November 16, 2019
0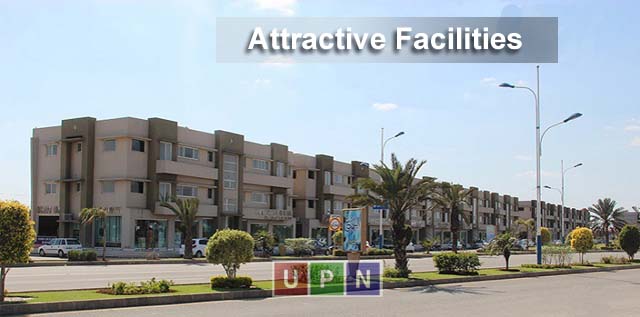 Bahira Town Housing Societies are the leading property projects of Pakistan owned by Malik Riaz who is the pioneer of Bahria Town Private Limited.
This group is the foremost real estate group in Pakistan and working with a vision to change the structure of the housing project in our country. The developers have facilitated Bahria Town Housing Projects to the maximum level to provide its residents with the most luxurious and comfortable residential opportunities. Moreover, it is also the best to choose for commercial purposes.
Bahria Town projects ensure quality standard lifestyles in them are there are several reasons behind the success and popularity. Some of the attractive facilities available in only Bahria Town Projects are:
Luxurious Lifestyle
There are numbers of housing societies across the country but if you are looking for a luxurious lifestyle, Bahria Town Housing Societies is the only option that will meet your desires. These projects have all the leisure of modern life. The societies include Theme Parks, Spa, and Fitness Center, Golf Courses, Five Star Hotels, Country club and different modernize facilities that anyone can imagine in housing societies.
Secure & Safe Environment
Bahria Town Housing Projects have their own patrolling police. Its security management is equipped with the latest security cameras along with modernizing automatic gates with guards and other security. Bahria Town patrolling police remains moving throughout its societies and makes assure the safety of its residents. That's why Bahria Town is the safest zone to live in Pakistan.
Self-Generated Energy Resources
Pakistan is now facing huge electricity problems across the whole country. But here is Bahria Town; you are free of all such problems. Bahria Town Housing Societies have provided a complete solution for electricity by providing self-generated energy. This is definitely a great facility in a country where others life is disturbed due to energy crises and shut down. This uninterrupted supply of electricity gives Bahria Town an extra edge than all the other housing projects.
State of the Architecture
Along with the best facilitation, Bahria Town Housing Projects are designed with tremendous architecture and structure. Moreover, its streets, roads, lanes, blocks, parks, gardens, and important landmarks are full of beautiful statues, monuments, art sculptures, and building architectures.
Indeed, Bahria Town has specific building designs for its every project that makes its best among others.
Entertainment Facilities
Bahria Town Housing Societies are famous for providing the best entertainment and leisure facilities in it.  Its projects are planned with Cinemas, Parks, Gardens, Theme Parks, and Food Courts. Moreover, Bahria Town has also duplicate Eiffel Tower, the statue of liberty and other iconic structure that attracts numbers of visitors to it.  Indeed, the best community centers, sports complexes, and many more entertaining facilities are available in Bahria Town Projects.
Best Health Facilities
Bahria Town Housing Projects along with offering all the amenities has also focused on providing basic facilities required for survival which include the best health facilities.  Bahria Town is offering the best health facilities to its residents.
Standard hospitals, specialized doctors, and immediate treatment facilities assure that Bahria Town is the only choice to live comfortably.
Community Centers
Bahria Town Housing Societies have separated community clubs with all lavatories to entertain guests, arrangements for business dealing with clients. So, if you are a member of these clubs, you will enjoy these facilities:
5-Star Hotel
Luxury Room
Banquet Halls
Signature & Private Lounge
Moreover, there are luxury swimming pools, Ecstatic Bar Areas, fine dining, indoor sports such as a snooker club, squash, and much more.
Well- Planned Commercial Zone
Bahria Town Housing Societies is not only attractive for its luxury residential facilities but equally important for its commercial zone. Every project has its well—planned commercial zone which is the center of trade in Bahria Town. Moreover, these commercial zones are offering great business opportunities over there.
Standard Education Facilities
Bahria Town Housing Societies has also focused on standard, quality education. That's why; you will find the best education institutes in its projects. Indeed, Bahria Town's own school system is offering the best education facilities to its residents.
Conclusion:
 All these above-mentioned qualities and facilities ensure that Bahria Town Housing Societies are the most luxurious, safest and most entertaining housing options in Pakistan. So, Bahria Town is the place where you will enjoy all the world-class facilities that make them best to live.
Check out our site for more detail. Latest News
For more information, feel free to contact Universal Property Network.