Things to Consider Before Buying Property in Bahria Town Karachi!
by UPN
January 13, 2020
0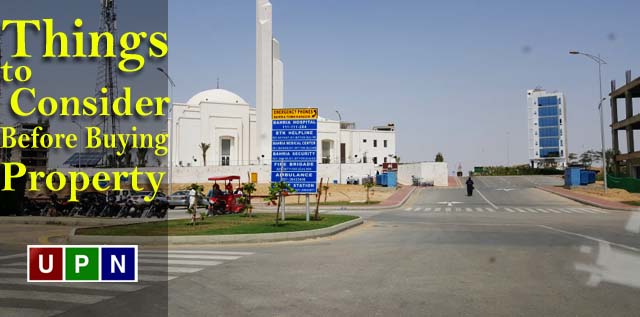 Are you to make long term investment in Bahria Town Karachi and that's why planning to buy the best property in the society? In such a case, you need to undergo thorough proper research, as well as have the proper knowledge of the market flow.  Before making an investment in any property, it is essential to have in-depth information about that property. This in-depth information may include some basic tips, dos, and don'ts that can assist the buyer to buy the right property in Bahria Town Karachi.
So, let's discuss these details together!
First, Stay Updated With the Property Ups And Downs in Bahria Town Karachi
When you are planning to invest in any property or in any society, all the buyers are instructed to do thorough research and stay updated with the property's ups and downs.
So, first, he has to gather enough knowledge about the property he is investing in.  For this, he needs to do research on market ups and downs, current prices, property flow and more. This will help the buyer to find the right property deal at the best prices.
Do Investigate and Cross-Check Property Prices               
It does not matter how much money you have in your pocket. But buying the property at higher rates than its actual worth, really pinches inside and not good at all.  Especially, property investors always consider buying the property at the standard rates. They don't want to pay extra for it. Therefore, it is suggested to ask about the prices from a few brokers and cross-check them regularly to avoid paying extra for any desired property in Bahria Town Karachi.
 Check Property's Location & Visit it Physically
The most important factor to do consider in buying property is its location. Especially, when you are buying a property in Bahria Town Karachi, the location of the property is a key factor. So, it is always advisable to visit the property site on your own and do check the nearby facilities and attractions as well.  
Look For Pros and Cons While Buying Property in Bahria Town Karachi
When you are done with visiting the location of the property physically, now consider all the pros and cons of that property.  This will give you a better idea about which one to choose and which property is suitable for you. Now make a decision according to your budget and demands.
Do Compare All Available/ Desired Properties
Once you make proper research about the properties to choose from, now compare all of them. You can compare them in terms of prices, location, development, and future prospects. Then choose the one that suits you the best.
One more thing is not to ask about the same property to different estate agents again and again. This will ultimately increase the price of the property. This cross-checking can be used to inquire about the price of the property but don't overdo this!
Check out our site for more detail. Latest News
For further details, property investment analysis and consultancy services, contact Universal Property Network!