Theme Park Bahria Town Karachi Opening on Eid-ul-Fitr 2018
by UPN
April 10, 2018
0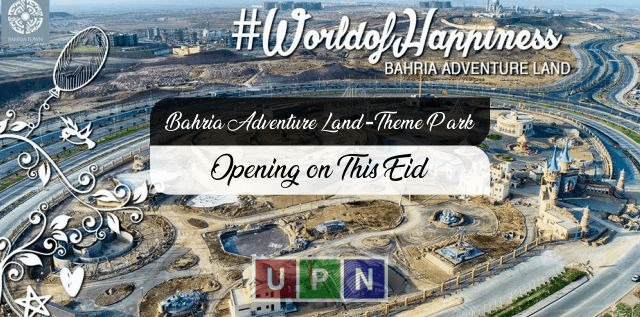 The moment is about to arrive which was long awaited by Bahria Town Karachi residents and visitors. The biggest attraction of this mega project is about to get open soon which is really good news for all. Recently Bahria Town Karachi inaugurated the most advanced hospital and now and biggest recreational facility is all set for opening. Yes you guessed it right; we have come up with Theme Park Bahria Town Karachi's inauguration date.
Bahria Adventure Land Opening on Eid-ul-Fitr 2018
This Eid will be very special as Bahria Town Karachi is ready to open its most sought after project Bahria Adventure Land. Known as Theme Park Bahria Town Karachi it would be first-of-its-kind wonderland in Pakistan. Especially, it will double the joy of kids on this auspicious occasion and will provide a quality entertainment for elders too. Bahria Town Karachi may offer free rides or discount packages for Eid Days and few days onward after opening.
Earlier, it was reported that Bahria Town Karachi Theme Park will open on 23rd March, 2018 but it did not happen. Now, this timeframe has been given by Bahria Town Karachi representatives while answering residents/customers' queries.
About Bahria Adventure Land (Theme Park Bahria Town Karachi)
Bahria Adventure Land would feature extensive range of thrilling rides which have been imported from Italy, Canada and Turkey. The architecture of this land of thrill would be a masterpiece based on the adventures of characters like Sindbad and Aladdin. This world class theme park would feature electrifying roller-coasters, grand castles, great ferris wheel, water-rides, grand circus and dinosaur park, food chains, and much more which was never witnessed in the country before. The recent pictures clearly indicate that work on these rides is in finishing stage and development of Dino Land and Indus Valley is near completion.
Get real folks for the greatest fun on this Eid in Bahria Town Karachi at Adventure Land. We will update you about the grand launch and further details as soon as received.
For further details and investment in Bahria Town Karachi, please contact our realtors and keep visiting Universal Property Network (UPN).