Bahria Golf City Karachi – Project Details, Location, Booking Details, Map, Plot Prices and Development Status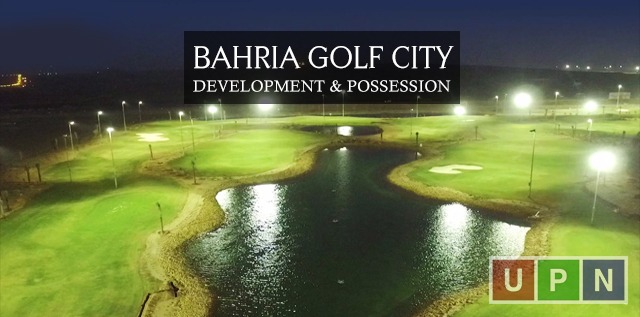 Bahria Golf City located in Bahria Town Karachi is rapidly completing its various development stages and possession has been given to several plot owners in the project. Covering entire Precinct 20 of Bahria Karachi, Bahria Golf City offers lavish residential options to buyers in 500, 1000 and 2000 Sq. Yard plot categories. 36-Hole Golf Course is the crown jewel of the project and the entire neighborhood is designed to provide serene views of golf course and lakes to its residents. Here is a detailed overview of Bahria Golf City development, plot prices in the and their current own. Apart from that, we will also update you about the possession status of plots in Bahria Golf City.
Bahria Golf City Karachi Development
Development had been finalized on majority of residential plots. Almost all the 2000 and 1000 Sq. yard plots are now on-ground in Bahria Golf City. Location of 500 Sq. Yard plots is also progressing at steady pace and almost 80% development is complete in that section of the project as well. It is highly probable that by the end of first quarter of 2018, development in this part of Bahria Golf City will also be completed.
A scenic lake has also been completed, increasing the appeal of Lake facing residential plots. Lush green fields are visible around the club house of Bahria Golf Course. 9-Hole golf course is already functional for the residents and golf-enthusiasts. Lit with floodlights at night, this golf course offers beautiful views and a remarkable lifestyle.
Bahria Golf City Possession
Bahria Town management has gradually handed over possession for residential plots. Construction has already started on couple of homes in the project, mostly on 2000 Sq. Yard and 1000 Sq. Yard plots.
Possession of 500 Sq. Yard plots in Bahria Golf City is not handed over yet but it is expected that within 6 months, possession will be handed over for these smaller plots as well.
Bahria Golf City plot prices & own
Residential plots were launched with help of an affordable payment plan. Now substantial own is also needed to be paid on these plots as development is nearing completion. Price and own details are provided below:
| | | |
| --- | --- | --- |
| Plot Category | Original Price | Own Range |
| 500 Sq. Yard | Rs. 8,500,000 | Rs. -200,000 – Rs. 14,500,000 |
| 1000 Sq. Yard | Rs. 15,500,000 | Rs. 3,000,000 – Rs. 20,000,000 |
| 2000 Sq. Yard | Rs. 25,500,000 | Rs. 18,000,000 – Rs. 40,000,000 |
So if you also want to build an ideal accommodation for yourself in a peaceful and beautiful project , then contact Univrsal Property Network. We are authentic and registered dealers of Bahria Town (Pvt.) Ltd.