Bahria Town Karachi – Current Development Status and Updates
by UPN
July 7, 2020
0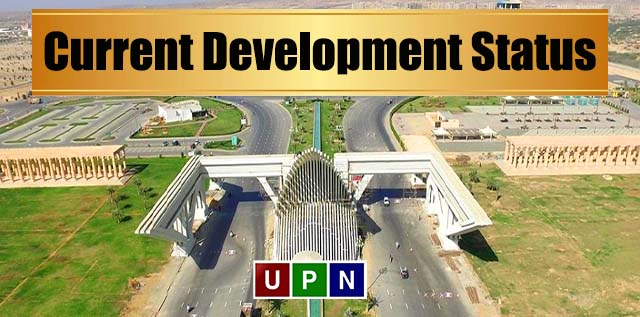 Bahria Town Karachi is one of the most prevalent housing ventures in the city of lights. It is a world-class community with state of the art infrastructure and modern developments. Spanning over 44,000 acres of land, Bahria Town Karachi is a smartly planned housing society where you will be facilitated in every aspect of life. Offering a wide range of property options in both residential and commercial sectors, Bahria Town Karachi has succeeded in attracting investors and genuine buyers.
Bahria Town Karachi Development Updates
Launched back in 2014, Bahria Town Karachi now becomes ready to live. It is the largest housing society with so many precincts and blocks. Yes, Bahria Town Karachi is designed with three sub-projects and more than 60 precincts offering the best properties for sale.
Most of these precincts are fully developed and inhabited. Some are developing while there are also some precincts where the development work is not yet started.
How will you know which precinct of Bahria Town  Karachi is developing and which is not? Don't worry; just read this latest write-up where you will know each and everything about Bahria Town Karachi's development!
Development in Old Bahria Town Karachi
Old BTK comprises the very first land and precincts of Bahria Town.  It is featuring many completely developed and populated precincts. Some precincts are developing while few are disputed and have legal issues.
Developed/Possession Areas of Old BTK
The area of Bahria Town Karachi that are developed and ready for possession are:
Precinct 1, Precinct 2, Precinct 3, Precinct 4, Bahria Hills, Ali Block, Precinct 10A, and Precinct 10B
Also, Precinct 14, Precinct 15 and 15A, Precinct 27, Precinct 27A, Golf City, Precinct 20A, Precinct 29, Precinct 30, Precinct 32 and Precinct 22 are developed.
Non-Developed/Disputed Areas of Old BTK
Precinct 23 A
Its expected location was at the back of Precinct 37 and adjacent to Precinct 25. These precincts were announced with the villas of 200 sq. yards and 125 sq. yards. But unfortunately, this precinct is located outside the boundary wall, and there is no development progress in it. Moreover, Bahria Town has also banned the sale and purchase of property in Precinct 23 A. You can also merge your properties in the available options.
Precinct 25A and Precinct 26 A come under the disputed area, and Bahria Town is no longer the owner of that land. Merging options is available.
Precinct 26
Most of the area of Precinct 26 is well-developed, but there are some disputed properties as well.
Bahria Town is no more owner of that disputed land so, cut down it from the map. However, the possession of the remaining precinct is not yet announced, and the same merging option is available for disputed plots.
Precinct 29 A, B, C and D
These precincts were announced to facilitate the awaiting members of Old Booking of 2014. The expected location of these precincts was at the back of Precinct 29. However, these precincts do not physically exist, and Bahria Town had also banned the sale and purchase of the property.
Precinct 32 A, B, C, D and Precinct 33 A, B, C, and D
Same as the sub-precincts of Precinct 29, these sub-precincts of Precinct 32 and Precinct 33 do not exist physically. Bahria Town has constructed a boundary wall over their expected locations, and no sale or purchase of property is allowed. There is no development of these precincts.
Valley Blocks (A, B, C, and D)
These blocks do also not exist physically. You can also merge your properties or Bahria will compensate you other properties may be in new precincts.
Partially Developed Precincts of Bahria Town Karachi
Precinct 23 comprises two parts. One part is ready for possession, the second area is developing, and soon Bahria Town will announce possession there.
Moreover, the backside area of Precinct 28 is not developed and not a land of Bahria Town.
Precinct 29 is featuring 500 sq. yards plots same as Precinct 28, the plots at the back of this precinct no more exists. Bahria Town will compensate the affectees with plots in new precincts.
Developed and Non-Developed Properties of Bahria Sports City
Bahria Sports City Karachi is starting from the Precinct 34 to Precinct 45.
Precinct 34 is featuring the residential plots of 250 sq. yards. It is a completely developed precinct. All of these plots are legally approved, and possession is also available. Precinct 35 is offering the villas of 350 sq. yards. It is also a developed precinct of Sports City. It is already populated precinct. Precinct 36 comprises 500 sq. yards and 1000 sq. yards plots. The development work is 100% completed.
All of these precincts are located on Main Jinnah Avenue. These are located opposite to Eiffel Tower in Bahria Town Karachi.
Precinct 37 is partially developed. Its 40% development work is complete, and the remaining is not the property of Bahria Town.
Precinct 38 and Precinct 39 are featuring the plots of 1000 sq. yards. Both of these precincts are not yet developed.
Precinct 40 is around 30% to 40% developed, and it is offering 250 sq. yards. Now comes to the details of Precinct 41 to Precinct 45, these five precincts are comprising the most disputed properties of Bahria Sports City.
Developed and Non-Developed Precincts of Bahria Paradise
Bahria Paradise is starting from Precinct 46 to Precinct 58.
Precinct 46 is not developed yet. Precinct 47, Precinct 48, and 49 are partially developed precincts. The developed areas of these precincts are available with possession. Precinct 50 is offering 500 sq. yards plots. It is an 80% developed precinct. This precinct is offering the best 500 sq. yards plots for sale in Bahria Paradise.
Precinct 51 is featuring the 500 sq. yards luxury villas and plots. Around 10% of the development work of plots is done. However, luxury villas are 100% ready. Also, Precinct 52 and Precinct 53 are located outside the boundary wall. Precinct 54 is one of the best precincts of Bahria Paradise. It is offering both the plots and apartments for sale. This precinct is also designed with Bahria Central Park.
Precinct 54 is also partially developed. Furthermore, Precinct 55 and Precinct 57 are non-developed precincts. Precinct 58 is offering the plots of two categories. However, this precinct is not developed yet. However, some development work is completed in Precinct 56.
Stay Updated with  Universal Property Network!
Check out our site for more detail. Latest News