Bahria Karachi Motorway Interchange Development Kicks Off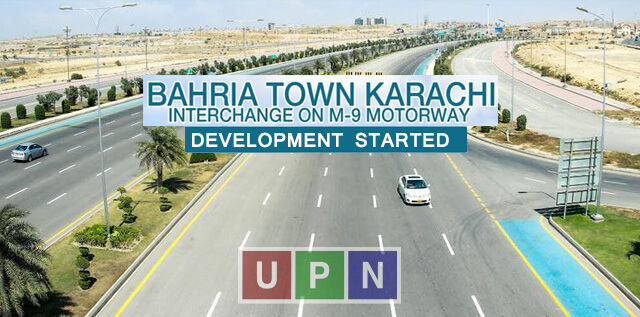 The development of Bahria Karachi Motorway Interchange has been started and construction activities are underway on the site at a rapid pace. It's indeed great news for Bahria Town Karachi residents and all concerned as Bahria Town is keeping the tradition of fulfilling its commitments on time. Earlier, Bahria Town had announced to build this interchange on Karachi-Hyderabad Motorway (M9) on its own expenses and just weeks after we got to know about the recent move. The construction contract had been signed with Frontier Works Organization (FWO) and its subsidiary Superhighway Construction Operation and Rehabilitation Engineering (Private) Limited (SCORE).
Bahria Karachi Motorway Interchange – Development Progress
In the latter half of December 2017, heavy machinery and required construction equipment arrived on the site and now operational. The work is in initial stages for excavating and leveling the land through rollers, but pacing up nicely which is a good indication.
Development of Diversion Route Completed
In the short time span of just a week or two, the development of diversion route for traffic on way to Karachi or Hyderabad has been completed. This 2KM diversion route (double road) is now diverting traffic to its destination smoothly without any hurdles in the way. The indicating sign boards to direct the traffic have been installed for ease in transportation.
FWO Working Dedicatedly
The construction contractors Frontier Works Organization (FWO) is working with dedication and utilizing its previous experience. FWO has been associated for the construction of Karachi-Hyderabad Motorway (M9) so it was probably the best choice for this interchange.
Easy Access to Bahria Town Karachi
Bahria Karachi Motorway Interchange will enable an easy access to Bahria Town Karachi for locals and for residents of neighboring cities. Bahria Town Karachi has major attractions like Grand Jamia Masjid, Rafi Cricket Stadium, Dancing Fountain, International Theme Park and more which will pull up huge footfall of visitors. Besides this, residents of BTK will get a direct access to Motorway via Jinnah Avenue for inter or intra city commuting.
Overall Impact of Bahria Karachi Motorway Interchange
Once completed, Bahria Karachi Motorway Interchange will be a great junction to link the other cities with this mega housing project. In this context, we can expect that plot prices of Bahria Town Karachi will go up in the upcoming days. Property investments in BTK from buyers of neighboring cities will also increase consequently.
For guidance and free consultation on property investments in Bahria Town Karachi, please contact our realtors.