Bahria Karachi Motorway Interchange Details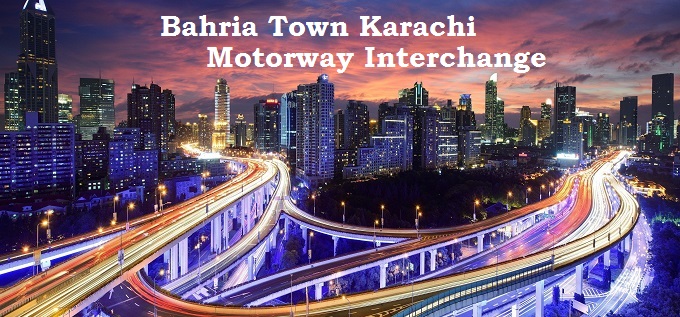 Bahria Town (Pvt.) Ltd. has made a deal with Frontier Works Organization (FWO) to build a state of the art interchange on Karachi-Hyderabad Motorway, otherwise known as M-9 Motorway. Bahria Karachi Motorway interchange will directly link Bahria with motorway M9. Travelers of Motorway and residents of Bahria Town Karachi will be able to enjoy hassle free access to Bahria Town Karachi and main Highway that connects the grand township with the city of Karachi.
Bahria Karachi Motorway Interchange
The motorway interchange for Bahria Town Karachi is going to be a multiple structure project. It will include 2 bridges, 3 underpasses and a causeway. Elaborate entry and exit plazaswill be constructed to facilitate the commuters moving to and from the Bahria Town Karachi. A well-organized network of slip roads will also be builtas part of this interchange, in addition to approach and exit ramps.
In short, the dedicated motorway interchange of Bahria Town Karachi will connect Karachi-Hyderabad Motorway with 400 ft. wide Main Jinnah Avenue of Bahria Town Karachi. The interchange complex will also include drainage system, pumping stations and standardized electrification for lighting up the bridges and underpasses.
Bahria Karachi Motorway Interchange Development
Construction on the proposed interchange for Bahria Town Karachi will commence, once authorities grant formal approval for the project. It is important to note here that choice of FWO as the contractor for the interchange project is a masterstroke by Bahria Town (Pvt.) Ltd. as the company was involved in the construction of Karachi-Hyderabad Motorway as well. The contracting firm will be ideal to complete the project keeping in mind the typical landscape, topography and logistical challenges of the project.
Bahria Town Karachi Interchange Funding
Bahria Town (Pvt.) Ltd. will bear the entire cost of the interchange project and it is estimated that the cost of project will run into billions of rupees, but the exact figure was not made public.
Advantages of Bahria Town Karachi Interchange
The completion of a dedicated interchange on Karachi-Hyderabad motorway for Bahria Town Karachi is going to be very beneficial. It will not only provide an easy approach for residents of Bahria Town Karachi to the main artery leading into Karachi city but it will also help common mases of Karachi to visit the landmarks and attraction of Bahria Town Karachi. Residents of Karachi will more frequently visit world-class attractions like Grand Jamia Mosque,  Rafi Cricket Stadium, Central Park of Bahria Paradise and International Theme Park.
Completion of this independent interchange will also have a huge impact on the overall plot prices of Bahria Town Karachi. So if you are also thinking to benefit from the huge investment potential of Bahria Karachi, contact Universal Property Network (UPN). We have multiple options for investment as well as accommodation sorted out just for you. We are authorized and registered dealers of Bahria Town (Pvt.) Ltd.