Theme Park Bahria Town Karachi – Bahria Adventura Opening soon
by UPN
January 3, 2018
0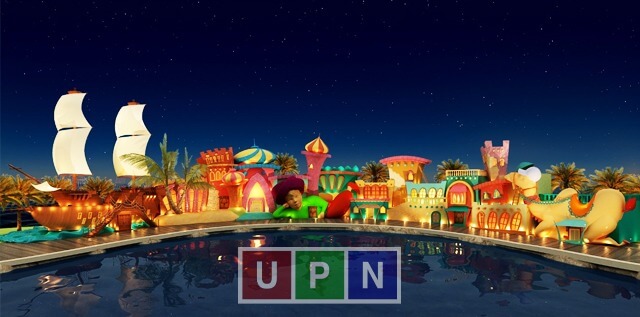 The New Year 2018 has come up with some good news and surprises for Bahria Town Karachi. Apart from the launch of ARY Residencia, some existing projects are on fast track development which will be completed in this year. Bahria Town Karachi Theme Park is near completion to entertain residents with all its thrill and amusement. The opening date for Pakistan's first international standard theme park has been announced on a recent occasion and for this, locals won't have to wait for long.
Theme Park Bahria Town Karachi – Bahria Adventura Opening
Bahria Adventura – Theme Park in Bahria Town Karachi will be opened on 23rd March, 2018 with full activities and operations. It was announced in the launching ceremony of McDonalds Outlet at the same site a couple of days ago. Bahria Adventura will be first-of-its-kind theme park in the country meeting all international standards and featuring world-class recreational facilities for different age groups.
Bahria Town Theme Park Rides
The management of Bahria Town Karachi is keen to make it one of the biggest attractions of the city. They have imported rides from Italy, Canada and Turkey for this park; however architecture will reflect the great adventures of renowned characters such as Sinbad and Aladdin. The electrifying roller-coasters, grand castles, great ferris wheel, water-rides, grand circus and dinosaur park, food chains, and much more is at finishing stage here.
Projects near Completion in Bahria Town Karachi
Bahria Karachi's Theme Park is not the only project opening in the first half of 2018. There are some other projects in the pipeline which have entered into completion phase like Bahria Night Safari and Bahria Hospital.
The finishing work in Bahria Night Safari is in its last stage of completion. It is expected to be opened in the end of March or in April 2018 and would be a truly spectacular place for modern entertainment. A 737 aero plane restaurant will also be inaugurated with Night Safari as Bahria Town has bought two grounded planes from national airline. The second one is expected to be placed near Bahria Dancing Fountain.
Bahria Town Karachi Hospital
Begum Akhtar Rukhsana Hospital Bahria Town Karachi is most likely to be formally inaugurated in February or March.
With these major accomplishments in the first four months of year, it is indeed a great start of 2018 for Bahria Town Karachi. It will lead to increase the investment volume in the whole project.