Bahria Town Karachi Precinct 1 & 12 – A Profitable Investment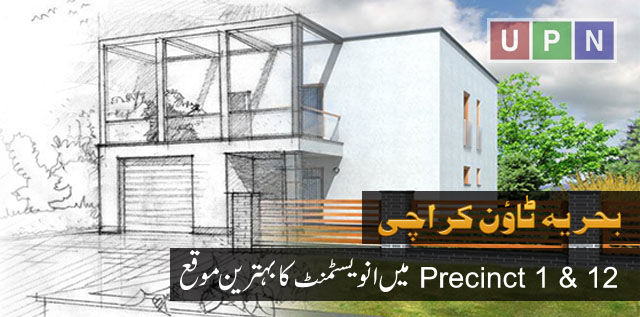 Bahria Town Karachi is undoubtedly a land of opportunities for investors and moving towards complete development now at a rapid pace. Some of its precincts are ready-to-live with provision of standard facilities and construction of homes is continued there. This fast progressing inhabitation has made this market even more lucrative particularly for Precinct 1 & 12 (Ali Block)
Bahria Town Karachi Precinct 1 & 12 – Profitable Opportunity for Builders
Where buyers are already reaping profit by investing in terms of plots in these precincts, property builders have also entered to the scene. According to the latest report received from the market, these developers are taking full advantage by trading in constructed homes at their own terms and conditions. Still the plot prices are very much reasonable in both precincts so it turns out to be an excellent investment gateway for builders as well.
Precinct 1 Bahria Town Karachi
Located at the start of Bahria Town Karachi, Precinct 1 is at walking distance from Main Jinnah Avenue and Super Highway. Just alongside the opening corridor of the mega project, Precinct 1 is well positioned at the front which buyers always prefer.
Precinct 1 Development Status – Ready-to-Live with All Facilities
With complete development and plots possession available immediately, Precinct 1 is a ready-to-live block with all living facilities. A few families are already residing in this precinct and another 20 to 25 homes are under construction. For education of your children, Roots Millennium School is functional and Bahria Dispensary is there for your healthcare and medical assistance. Gas connections are available and with landscaped parks and a Jamia Masjid, Precinct 1 has no match in terms of development and inhabitation.
Updated Prices of Precinct 1
There are only 250 sq yards plots in Precinct 1 which are available at the following price range.
| | | |
| --- | --- | --- |
| Precinct 1 | 250 Sq Yards | Rs. 7,500,000 to 11,000,000 (Own) |
Precinct 12 (Ali Block)
Precinct 12 (Ali Block) is located close to Bahria Homes of Precinct 11. Having 27-hole Golf Course and 400 ft Jinnah Avenue to both sides respectively, it has an ideal location in the mid of Bahria Town Karachi.
Precinct 12 Development Status
Around 20 homes are under construction in Ali Block as possession is available in this precinct. The on-ground development is complete and it will be fully equipped with all living facilities like Precinct 1 sooner. However, it is a suitable option for investors and constructors to get maximum out of their investment.
Updated Price of Precinct 12 (Ali Block)
P12 (Ali Block) consists of 125 sq yards plots only and the updated price range of these plots is given below.
| | | |
| --- | --- | --- |
| Precinct 12 (Ali Block) | 125 Sq Yards | Rs. 1,500,000 to 2,500,000 (Own) |
Precinct 6 and Precinct 8 – Possession Update
Good news for the builders and investors is that possession is now available in Precinct 6 and Precinct 8 as well. They can apply possession and Bahria Town will grant permission for home construction.
For property investment options in Bahria Town Karachi, feel free to contact our realtors. Keep visiting Universal Property Network (UPN) for latest updates.