Bahria Karachi Sightseeing Bus Tour Launched For Visitors
by UPN
March 6, 2018
0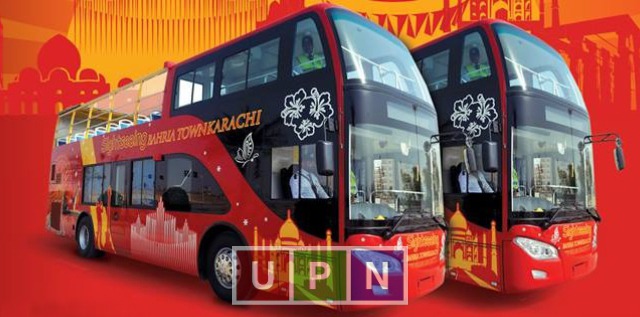 Bahria Karachi Sightseeing Bus service has been launched by Bahria Town Private Limited. The bus tour will provide quality entertainment to families that are residing in Bahria Karachi and for those who visit Bahria Town Karachi for recreational purposes as well. Specialized double decker tourist buses are made part of the sightseeing service.
Bahria Karachi Sightseeing Bus Timings
The bus service for sightseeing in Bahria Town Karachi will only be available over the weekends. Here are the timings for the bus service that will start off from Bahria Carnival Area located near the main entrance of Bahria Town Karachi
·         Friday (3:00 , 4:00, 6:00 and 7:00 PM)
·         Saturday (5:00, 8:00 PM)
·         Sunday ( 3:00, 6:00 PM & 7:00, 8: 30 PM)
Bahria Karachi Sightseeing Bus Route
Sightseeing bus route will pass through all the major attractions and landmarks of Bahria Town Karachi. Stops on the bus route will include:
·         Trafalgar Square
·         Bahria Town Karachi Booking Office
·         Bahria Adventura – International Standard Theme Park
·         Malik Square
·         Dancing Fountain
·         Rafi Cricket Stadium
·         Ali Villa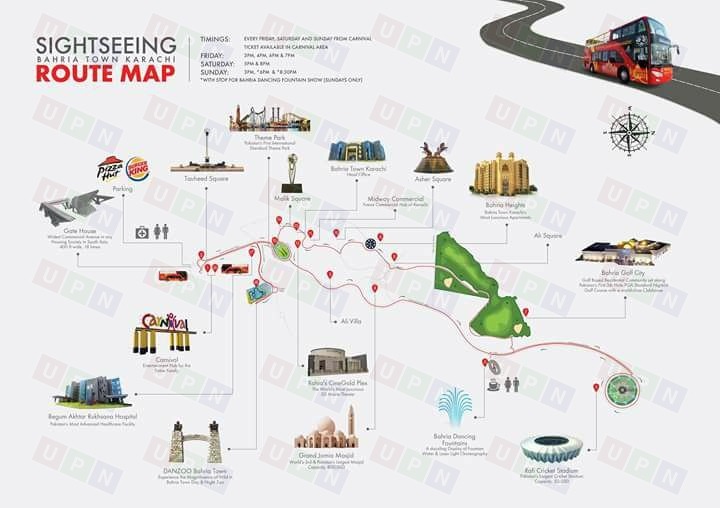 The tickets for Bahria Karachi Sightseeing Bus Services will be available from Bahria Carnival for Rs. 30/- for each traveler.
If you are interested to have a more in-depth tour of Bahria Town Karachi, to buy property in this project, then contact Universal Property Network. We will provide you perfect tour of the most investor friendly locations and blocks of Bahria Karachi.