Bahria Paradise Karachi 1000 sq. yards plots – Suitable to Buy Now
by UPN
May 27, 2018
0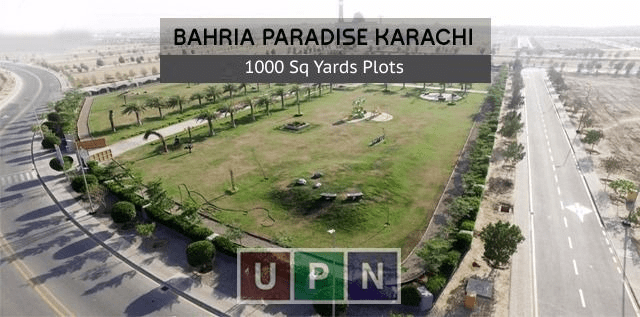 Bahria Paradise Karachi properties have always been on mind of buyers for being termed as most exclusive project. Apart from its least plot cutting 250 sq. yards and other category 500 sq. yards, the 1000 sq. yards plots have enough appeal. Bahria Town Karachi has dedicatedly working to develop this project as soon as possible and activities are going on site rapidly. Moreover, the development of major attractions of this project is contributing factor to increase attraction among buyers. In the following, we are going to discuss some details which will give you a fair idea about scope of 1000 sq. yards plots in Bahria Paradise Karachi.
Bahria Paradise – Precinct 56, Precinct 57 – 1000 Sq. Yards Plots
In Bahria Paradise, 1000 sq. yards plots are available in two precincts i-e Precinct 56 and Precinct 57. Initially, these plots have been the slow starter in terms of development and rates but now gaining momentum.
Taj Mahal – The Biggest Attraction
Taj Mahal, one of the biggest attractions of Bahria Town Karachi, will be located right at the entrance of Precinct 56 and Precinct 57 will be at its opposite side. Taj Mahal Bahria Paradise will increase the profitability of plots of these precincts after completion of development which is about to begin soon. Other than this landmark, Central Park Commercial whose groundbreaking took place recently is at few minutes distance from Taj Mahal.
Development of Precinct 56, Precinct 57
The biggest positive about Bahria Paradise 1000 sq. yards plots is the fast-paced development activities continued there. Almost 70% to 80% work has been completed so far and soon all these plots will be in shape on ground.
Price Efficient & Profitable Investment
Currently the development is going on and installment period is continued, Bahria Paradise 1000 sq yards plots prices are comparatively economical. These prices are bound to go up in future and once completely developed, it will be in position to compete with Bahria Golf City plots of same cutting.
For buying 1000 sq. yards plots in Bahria Paradise Karachi, please feel free to contact our realtors for complete guidance and consultancy. Keep visiting Universal Property Network (UPN) for more information and latest updates.