Bahria Town Karachi 250 Sq. Yards Plots with Possession – The Options
by UPN
May 28, 2018
0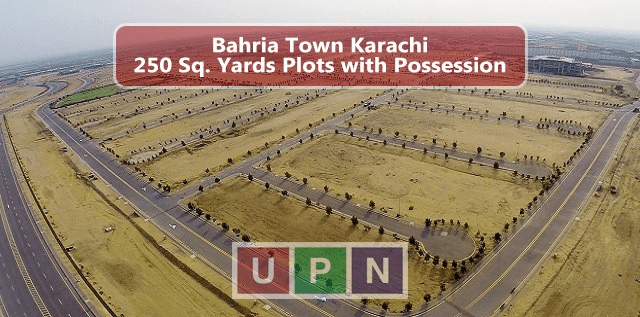 For bigger sized plots in Bahria Town Karachi i-e 250 sq yards, there are a number of options available. All these opportunities vary in terms of development status and other factors on which plot buying decision should rely on. The residential plots which are on ground and offered with possession are always preferred choice of buyers. Location and pricing factors also come into play and cannot be neglected in any case. For the ease of buyers, we have listed down 250 sq. yards plots in Bahria Town Karachi which are available with possession. The price range (full price) has been mentioned with each option.
Precinct 1
Rs. 90 Lacs – 140 Lacs
The starting Precinct of Bahria Town Karachi has premium location very close to the entrance of this mega project. All standard facilities of life are available with amenities like school; masjid and market are present for the residents. Construction of houses is in full swing and people are living their lives comfortably. The linked benefits of neighboring Precinct 2 (Iqbal Villas and Quaid Villas) are added advantages.
Precinct 6
Rs. 58 Lacs – 75 Lacs
In comparison with Precinct 1, 250 sq. yards plots in Precinct 6 are available at economical price range. It is ideally located with having Bahria Heights, Midway Commercial, Grand Jamia Mosque, Bahria Hills and Cine Gold Cinema in surroundings. Development is near completion and the buyer can start construction of house immediately.
Precinct 8
Rs. 55 Lacs – 75 Lacs
250 sq. yards plots of Precinct 8 are considered an ideal choice for buyers as it is also near to main entrance of Bahria Town Karachi. Close of Precinct 10 & 11 (Bahria Homes), Bahria Heights apartments are in its proximity while the commercial area in surrounding is developing rapidly. The inhabitation in this precinct will start soon because these plots are completely developed and ready for construction.
Precinct 16
Rs. 50 Lacs – 65 Lacs
For its outstanding location, Precinct 16 would be high-on-demand for 250 sq. yards plots in the upcoming days. Ideally positioned on Main Jinnah Avenue with Bahria Hills in vicinity and Grand Jamia Masjid at front, Precinct 16 plots are a wonderful option for buyers. Development has almost been completed here and construction of houses to get underway soon.
Precinct 21
Rs. 27 Lacs – 35 Lacs
In Precinct 21, price range of 250 sq. yards plots is comparatively quite economical and suited for long-term investors. Located at the edge of Bahria Golf City, the location is good enough to attract buyers. To gain a handsome ROI, it is one of the best option as prices are expected to increase preconditioned to development.
Precinct 22
Rs. 30 Lacs – 35 Lacs
When it comes to affordable 250 sq. yards plots, Precinct 22 is the best option we have in Bahria Town Karachi. Located at the backyard of Bahria Golf City, the development status here is satisfactory.
Precinct 30 & 32
Rs. 30 Lacs – 40 Lacs
For midrange 250 sq. yards plots in terms of price, Precinct 30 and Precinct 32 are other suitable options for investors and genuine buyers. Bahria Sports City factor and proximity to Rafi Cricket Stadium will definitely have an impact on plots of these two precincts in future in terms of price increment and development.
If you want to buy 250 sq. yards plots with possession, please feel free to contact our realtors for complete guidance and consultancy. Keep visiting Universal Property Network (UPN) for more information and latest updates.