Best Residential Options Near Rafi Cricket Stadium
by UPN
October 17, 2017
2 Comments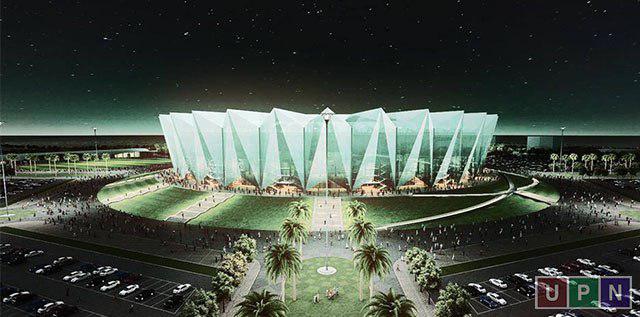 Rafi Cricket Stadium is going to be the most prestigious landmark of Bahria Town Karachi. Located in the heart of Bahria Sports City, the iconic sports venue is going to be surrounded by some lavish and facility-rich neighborhoods. Residential blocks spread around the stadium offer profitable opportunities for investors and buyers. Especially Precinct 22, 30, 32 and 34 with 250 Sq. Yard Plots are considered hottest projects around Rafi Cricket Stadium.
Remember that Precinct 22, 30 and 32 are part of Old Bahria Karachi. Only 2 installments for the plots in these 3 precincts are left and possession is expected to be delivered in February 2018. On the other hand, Precinct 34 is part of Bahria Sports City and only 6 out of total 16 installments have been paid so far.
Precinct 22
Although, it not the nearest precinct to Rafi Cricket Stadium, it has an added proximity with Golf View City that is located across the road from Precinct 22. You can enjoy serene and beautiful views of 27-Hole PGA Standard Golf Course with by owning a 250 Sq. Yard residential plot in the block. Not to mention that precinct 22 comes with a lake of its own. Launched at a price of Rs. 2,850,000, the own for these plots ranges from Rs. 1,000,000 to Rs. 1,200,000.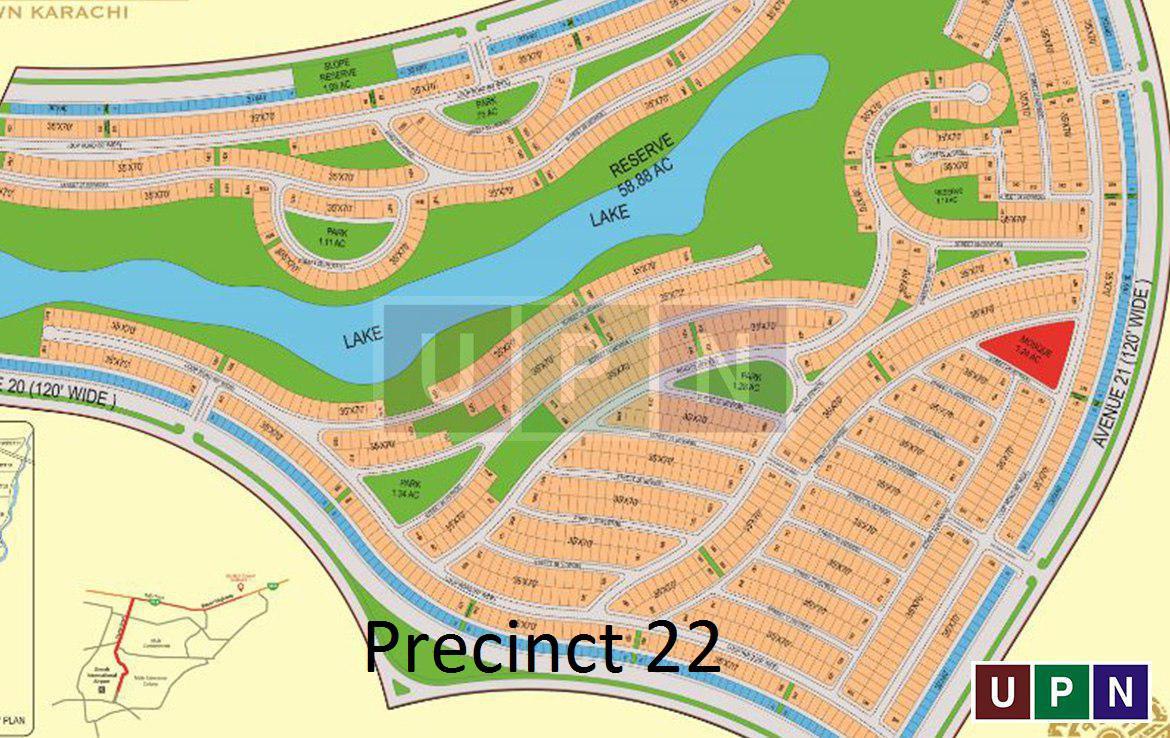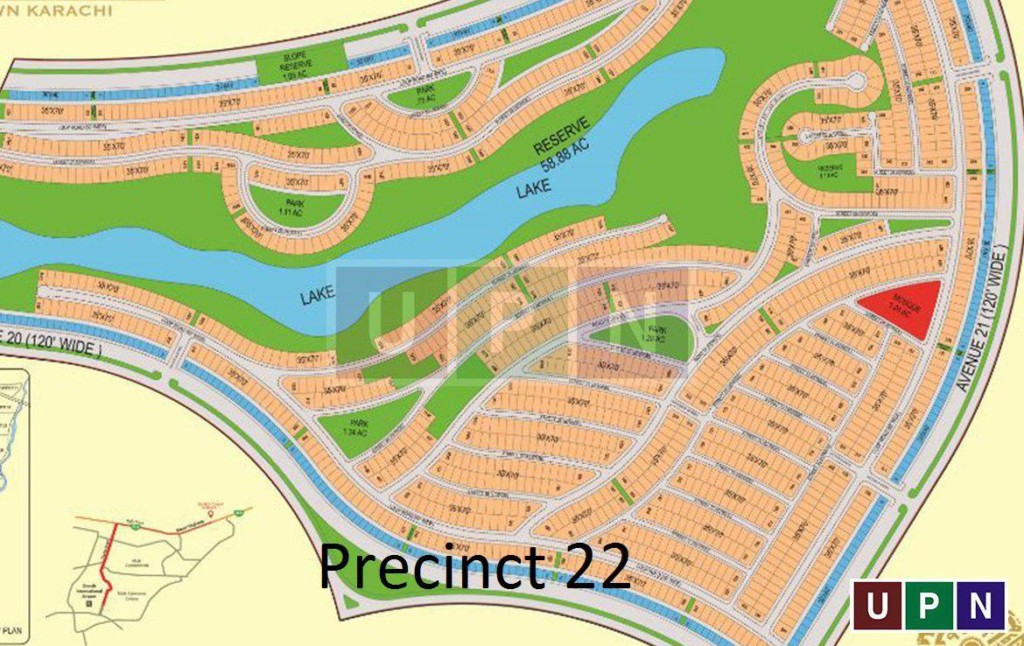 Precinct 30
Located on Main Jinnah Avenue, the precinct consists of ample 250 Sq. Yard residential plots. Total price of plot is Rs. 2,850,000 and own ranges between Rs. 1,600,000 to Rs. 2,200,000.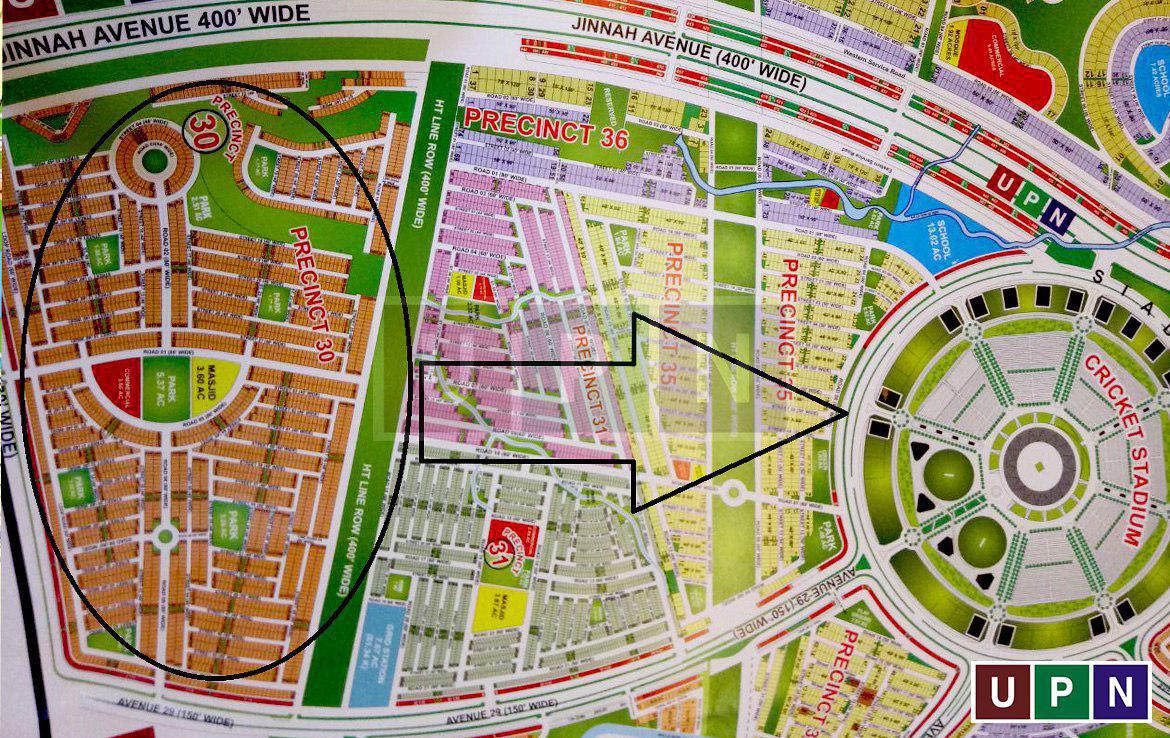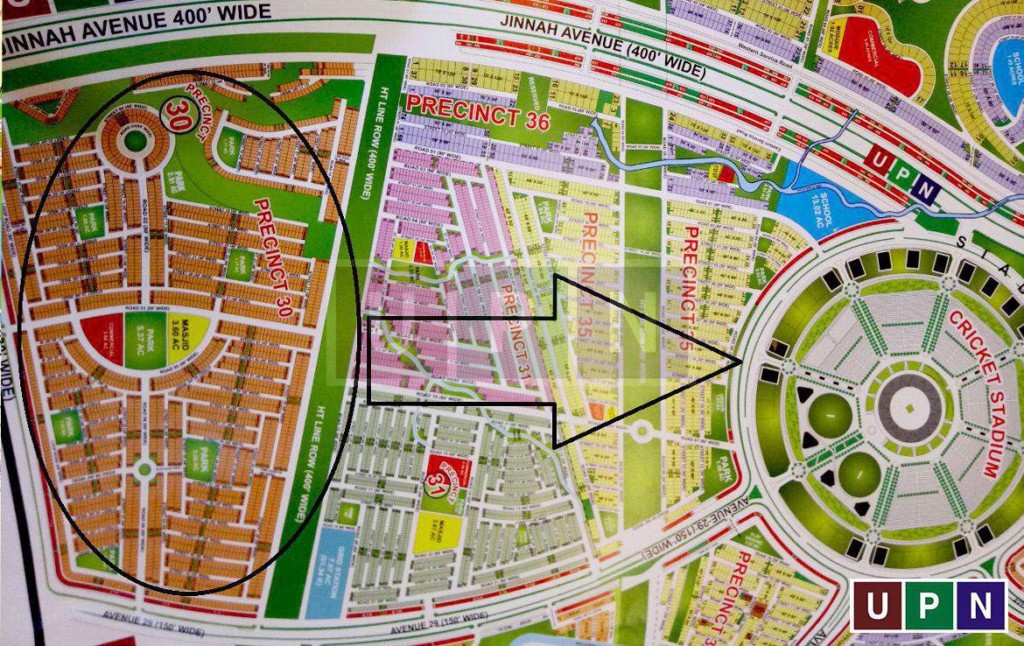 Precinct 32
Located next to Bahria Sports Villas, the precinct has direct access to Rafi Cricket Stadium with help of 2 separate 150 feet wide roads. Like Precinct 22 and 30, 250 Sq. Yard plots in Precinct 32 were also launched at Rs. 2,850,000 but now the own is demanded from Rs. 1,200,000 to Rs. 1,800,000.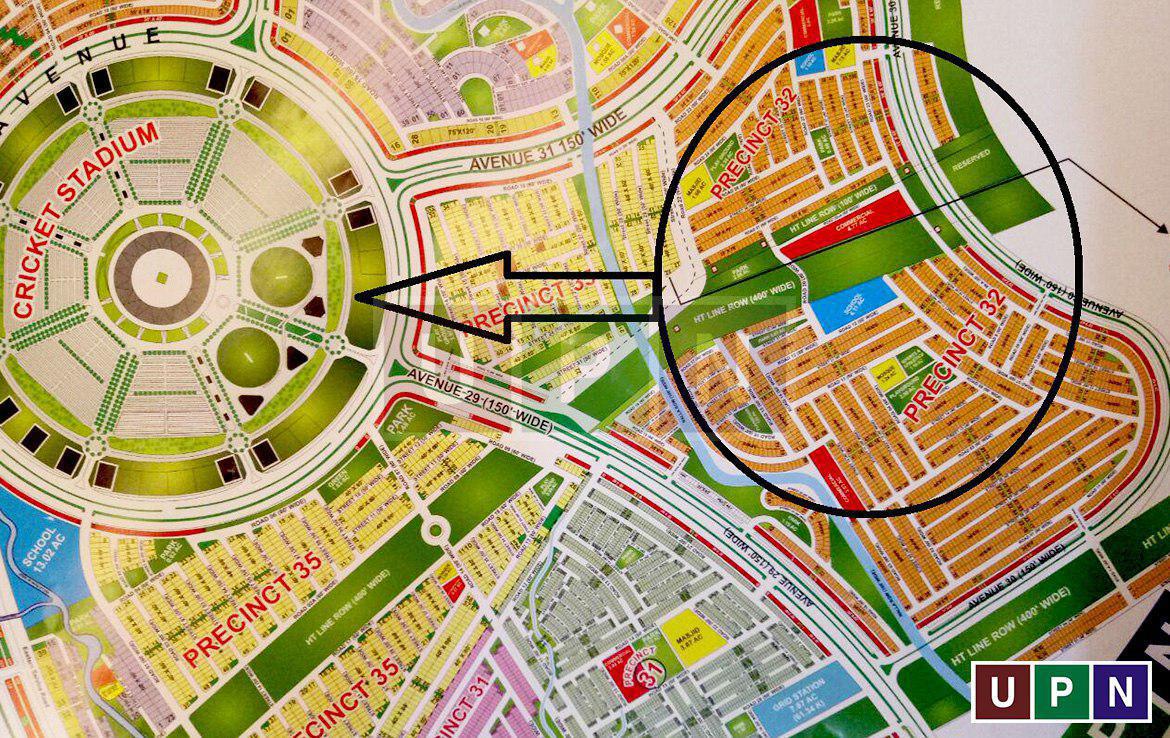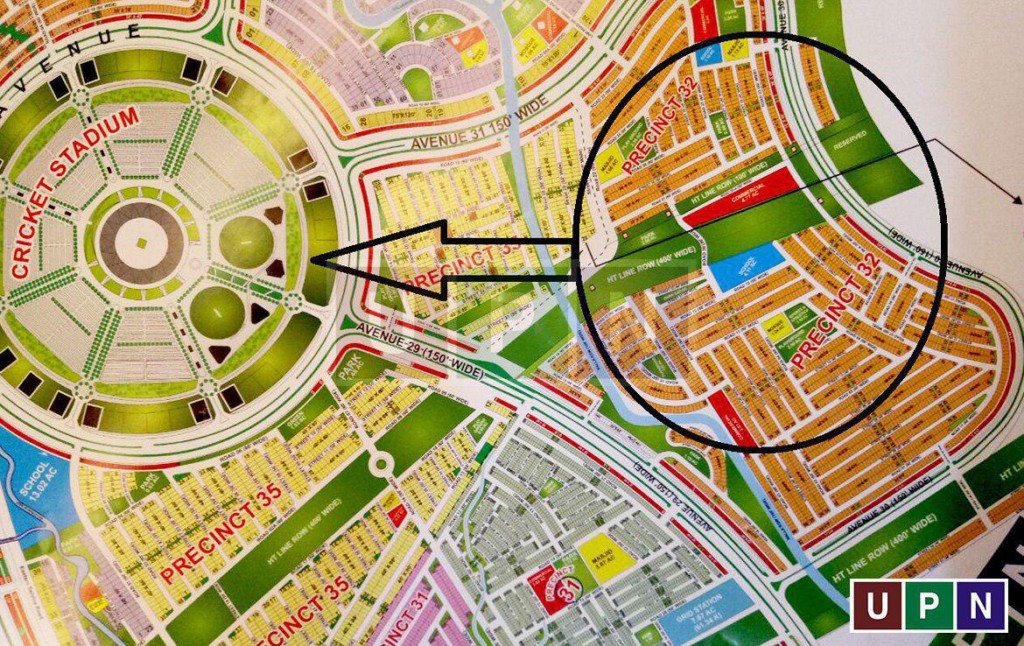 Precinct 34
The block is located right next to Rafi Cricket Stadium. Within Bahria Sports City, there are many precincts with 250 Sq. Yard plots but only Precinct 34 qualifies to be worthy of your investment because it is not only adjacent to the stadium but an entire side of the block faces 400 feet wide Jinnah Avenue. Launched at a total price of Rs. 3,655,000 a residential plot in the block is right now available at an own of Rs. 1,300,000 to Rs. 1,800,000.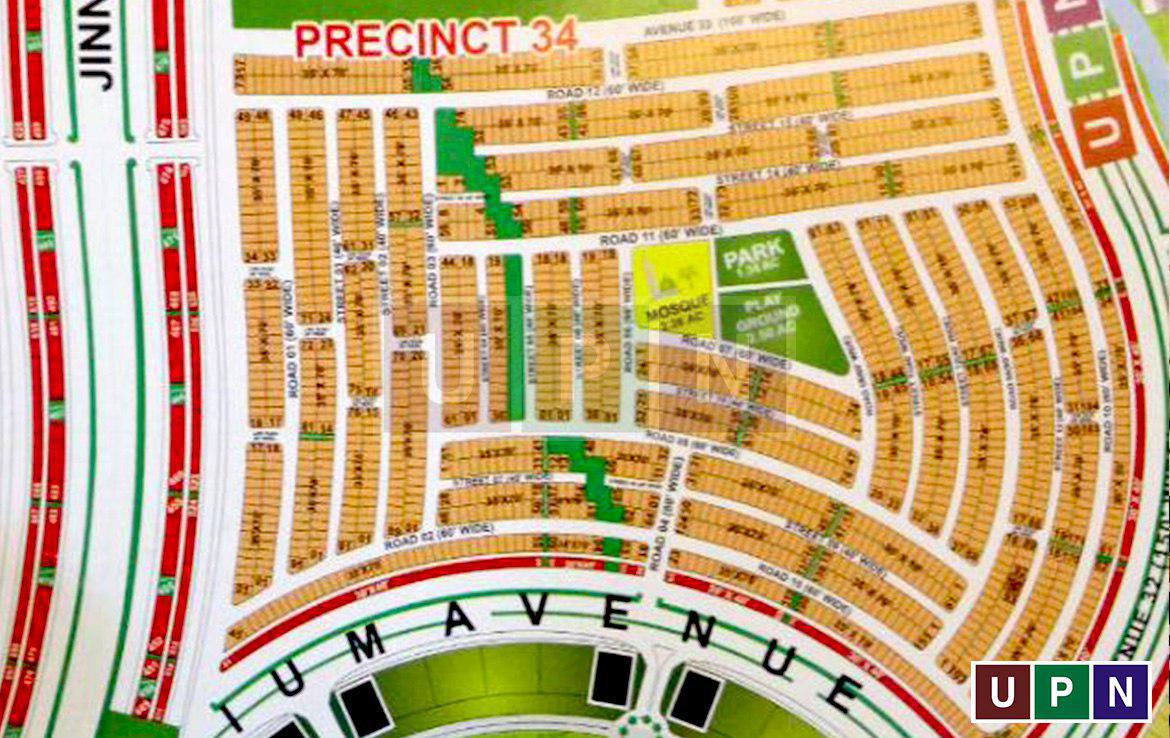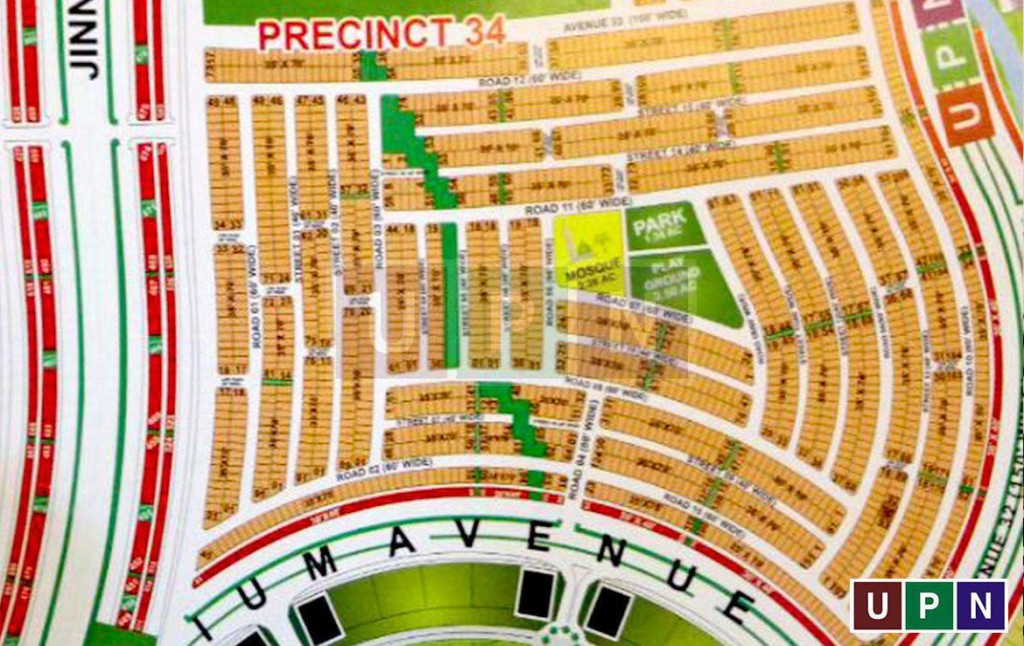 Time factor and amount of capital are the deciding elements in your choice of precinct. If you have enough capital and want to become owner of a plot near Rafi Cricket Stadium in a matter of few months, then you must go for Precinct 22, 30 or 32. Spend an amount of nearly Rs. 4 to 4.5 million and you can become owner of a plot. If you are looking for a long-term investment or you have smaller capital in the range of Rs. 2.8 to 3 million, you must go for a 250 Sq. Yard plot in Precinct 34.
If you are not interested in a residential plot, you can always opt to buy a lavish 350 Sq. Yard Bahria Sports Villa also located next to Rafi Cricket Stadium. For investors who want to play it safe with smaller capital, 125 Sq. yard Plots are the natural option. We have also made a list of precincts with 250 Sq. Yard plots for those investors who want to invest a larger amount in order to earn bigger profit in Bahria Town Karachi.
Contact Universal Property Network for investment opportunities in Bahria Town Karachi and its various projects. We are authorized and authentic dealers of Bahria Town (Pvt.) Ltd.