Bahria Paradise Karachi New Block Launched – Bahria Paradise Latest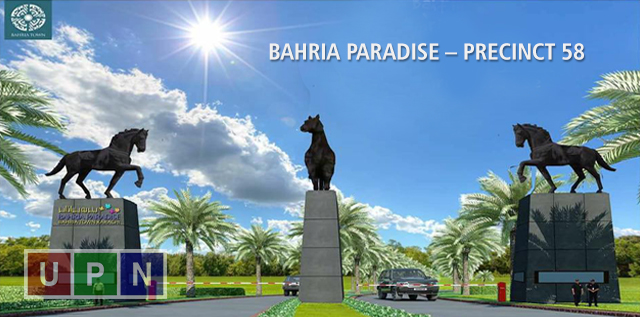 A New block has been launched in Bahria Paradise Karachi by the name of Precinct 58. Addition of the new block, increases total number of precincts to 13 in Bahria Paradise Karachi. Precinct 58 has been launched to compensate the plot file holders who did not get a plot allotted after the balloting of Bahria Paradise Karachi.
Allotment of plot numbers has been started in Precinct 58. With that said, Bahria can launch more blocks to further accommodate the file holders. 
Bahria Paradise Plots – Precinct 58
The new block of Precinct 58 in Bahria Paradise Karachi will consist of 250 Sq. Yard and 500 Sq. yard residential plots. As mentioned earlier, clients who were not able to get allotment of their plot files will be adjusted in this block and all of them belong to 250 & 500 Sq. yard category. Customers who have already made full payments for their plots are given priority in the allotment process of the block.

Map of Precinct 58 – Bahria Paradise
For now, there is no map launched by Bahria Town Karachi management for Precinct 58 of Bahria Paradise. Although allotment process has started but it is expected that map will be launched in due time so that people can know exact location of their plots in Bahria Paradise Precinct 58.
Development in Precinct 58 – Bahria Paradise
Development of Precinct 58 will be carried out simultaneously with development of Bahria Paradise. As the map will be launched in coming weeks, it will become easier to witness on-ground development in the block.
Launch of the new block in Bahria Paradise comes as a sign of relief for all those plot file owners who were not able to get allotment of their plots in recent balloting. Prices in Bahria Paradise has jumped up since the balloting was conducted in October 2017. Impeccable facilities coupled with luxurious lifestyle has made the project one of the hottest real estate project of Pakistan.
If you are interested to buy plot files in Bahria Paradise or any other project of Bahria Town Karachi, contact Universal Property Network. We are authentic and registered dealer of Bahria Town (Pvt.) Ltd.