Bahria Sports City Villas Possession Handing Over Ceremony
by UPN
March 22, 2018
0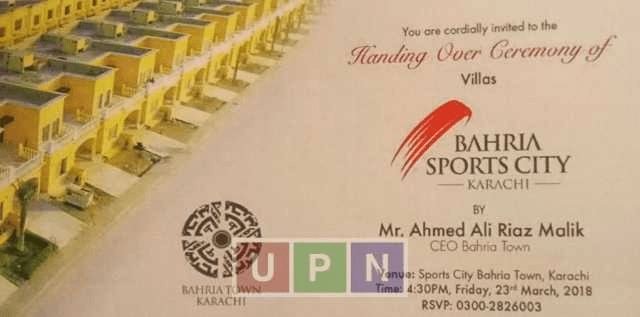 Bahria Town is trusted by public as it has always delivered whatever committed with its valued clients. Handing over Bahria Sports City Villas' possession is prime example where customers are getting keys even before time. Earlier announcement regarding Sports City Villas possession was made in the last month and now the time has come to fulfill this promise. Last week, Bahria Town Karachi has dispatched letters to Sports City Villas holders informing them to get possession of villas. Now they are organizing an official ceremony to do this job in a ceremonial way.
Handing Over Ceremony of Bahria Sports City Villas
Bahria Sports City Villas Handing Over Ceremony is scheduled to take place on Friday, 23rd March at 4:30 PM. It will be held at same venue in Bahria Sports City where these villas are located. CEO Bahria Town Mr. Ali Riaz Malik will grace the occasion as chief guest and will do the honors. All concerned have been invited to take part in this ceremony. So it will be a momentous moment for Bahria Town and customers receiving their villas' possession earlier than expected. Bahria Town was supposed to deliver possession of these villas in 2020 but giving it almost two years earlier.
Important Information for Bahria Sports City Villas Holders
Bahria Sports City Villas holders looking forward for possession will have received the letter regarding its procedure by now. It has some important information and future guidelines for customers about maintenance charges and etc.
Maintenance Charges of Bahria Sports City Villas
Via this letter, Bahria Town has informed its customers about their maintenance charges of Sports City Villas applicable from April. At the time of receiving possession letter customers will have to pay these dues.
Register Any Complaint within 3 Months
As Bahria Town values customer satisfaction, it gives them a chance to raise an issue before administration. Till next three months, Sports City Villas owners can register any complaint or problem regarding their villas. Bahria Town will try to resolve it in the best possible way. All customers should visit their Sports City Villas and check if there is any issue to get it resolved timely.
23rd March, 2018 is a big day for Bahria Town Karachi as a few projects will be inaugurated. Bahria Adventura (Theme Park Bahria Town Karachi) and Bahria Town Hospital Karachi are also included in this list.  Handing over Sports City Villas is one of major accomplishments of Bahria Town Karachi.
For more information and latest updates, please keep visiting Universal Property Network (UPN).