Bahria Sports City Villas worth Investing for Huge Profit & Residency
by UPN
February 19, 2018
0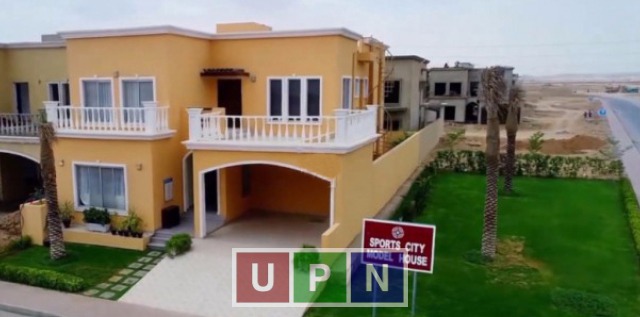 As Bahria Town Karachi has entered into the final phase of development in some of its precincts and sub projects, the inhabitation is increasing there. The built properties are high-on-demand for this purpose and what else can be a better option than a luxury villa for living your life to the fullest. Bahria Town Karachi offers multiple options in this category but currently Bahria Sports City villas are unrivaled in terms of living luxury and space along with affordability.
Let's see how Bahria Sports City Villas come up as the best choice and what potential it holds for the future.
Bahria Sports City Villas – Bigger Size & Better Facilitation
Among other options of villas, Bahria Sports City Villas are bigger in size (350 sq yards, 14 Marla) and offer ample living space. The 4-bedroom villas also have servant quarter, a large size back lawn, and car porch for two alongside terraces and balconies. Undoubtedly, it provides iconic living standard and hence a perfect dream destination.
Location and Impact of Major Developments
Bahria Sports City villas are located nearby Rafi Cricket Stadium where development is going on rapid scale. Iconic Eiffel Tower will also be built near cricket stadium, so both major developments will definitely have a huge positive impact on it in the future.
Bahria Sports City Villas Development is near Completion
With respect to development work, Bahria Sports City Villas can be divided in to two types. In one section, the grey structure of the building has been completed and now finishing work is about to start. The villas in the other section are almost near completion as finishing work is in the last touch and these are almost ready to be handed over. Most importantly, Bahria Town Karachi has announced to deliver Bahria Sports City Villas possession by 13th March.
Bahria Sports City Villas – Lesser in Price
Bahria Sports City Villas are bigger in size and lesser in price. Even with 350 sq yards, it is available in price less than of 200 sq yards Quaid Villas which starts from Rs. 200 Lacs. Even recently launched ARY Residencia Villas  in the same area are available at Rs. 155 Lacs starting price which is relatively high as compared to Bahria Sports City Villas prices ranging from Rs. 170 lacs to Rs. 190 Lacs.
Investment Prospects of Bahria Sports City Villas
Be it residency or for investment purpose, Bahria Sports City villas are most suitable choice in luxury living which can earn you huge profit. In future it can also become a source of a handsome rental income. Now when Bahria Karachi has announced possession before time and this factor combined with major developments in surroundings will increase the prices of Bahria Sports City. It is ideal for long-term investment to gain huge profit because if someone holds it for 3 to 4 years, its price will touch Rs. 400 lacs figure when cricket stadium will be operational.
For more updates and options regarding investment in Bahria Town Karachi, contact our qualified realtors and also keep visiting Universal Property Network (UPN).