Bahria Town Karachi 500 Sq. yards Plots – Ideal Location for Buying
by UPN
May 29, 2018
0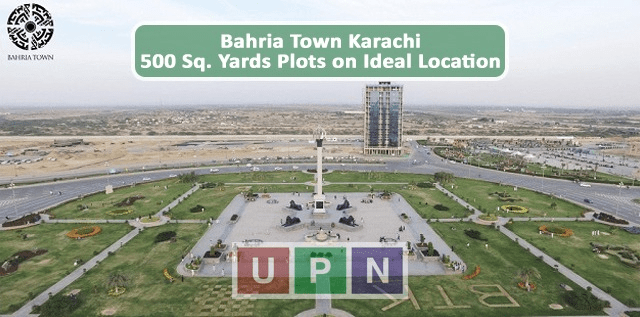 Bahria Town Karachi is a diversified community offering multiple opportunities to buyers. Where 125 sq. yards and 250 sq. yards categories of plots are budget-friendly options, 500 sq. yards plots fall in prime category. While investing for bigger-sized plots, you must take a smart decision after thorough consideration about location and ROI potential. As Bahria Town Karachi has enormous expansion, each category of plots has a wide range available for selection. In case of 500 sq. yards category, these plots are available in 20 precincts of Bahria Town Karachi and its sub-projects. We have narrowed down the choice and discussing those precincts only which are ideal for buying 500 sq. yards plots.
Bahria Town Karachi – Precinct 29
The location of precinct 29 and its reasonable prices make it an ideal choice for buying 500 sq. yards plots. Adjacent to Jinnah Avenue, this precinct is perfectly positioned at the backside of Bahria Golf City's Overseas Block. Development here is almost near completion and soon possession will be handed over soon.
Precinct 27A
Precinct 27A is almost equally good option as Precinct 29 for this specific category. It faces Bahria Golf City and also connected with 400 ft. wide Main Jinnah Avenue. Major attractions like Grand Jamia Masjid and Dancing Fountain are in its vicinity, so it's worth buying for reasonable profit in future.
Precinct 17
Precinct 17 is a suitable option for 500 sq. yards category with a bit increased value. The centric location of this precinct is the real attraction for buyers as Bahria Heights, Five Star Hotel and Midway Commercial are in its surrounding.
Precinct 4
Precinct 4 is quite close to the main entrance of Bahria Town Karachi so it has its own appeal among buyers. It is almost completely developed and possession has been delivered. One can start constructing home right after buying 500 sq. yards plots here.
Bahria Hills
Bahria Hills is a special project of Bahria Town Karachi located at a bit height above the ground level. It is on road to rapid development and who won't want to buy a plot here at this amazing place which has Jinnah Anveue, Midway Commercial, Grand Jamia Mosque, Bahria Head Office and Bahria Heights in the surroundings.
Check daily updated prices of these 500 sq. yards plots in our Property Rates section. For buying 500 sq. yards plots in Bahria Paradise Karachi, please feel free to contact our realtors for complete guidance and consultancy. Keep visiting Universal Property Network (UPN) for more information and latest updates.